Just a quick post to round out my Monday canning. I still have figs in the frig macerating (diced and added sugar to preserve) and waiting for inspiration today but last night my third recipe for the evening was a Fig Orange combination that got some spices that took it up and over the top. I had a bit this morning of my "end of pot" jar and the flavor is complex and really good.
Sassy Fig Orange Jam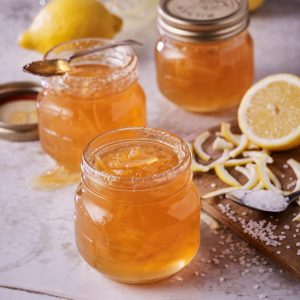 Sassy Fig Orange Jam
Here is my Sassy Fig Orange Jam adapted from simplyrecipes.com! 
Ingredients
1 1/2

cups

diced fresh figs (6 to 10 medium)

1/2

cup

seeded, peeled orange, diced (1 to 2 medium)

1 1/2

cups

of sugar

1 1/2

teaspoons

grated orange peel

3

tbsp

lemon juice

1/4

teaspoon

ground ginger

1/4

teaspoon

ground cloves

1/4

teaspoon

cinnamon
Instructions
Sterilize 4 half pint jars.

First zest/grate the orange to use for your peel. Then peel your orange to dice.

Place diced figs in a stainless steel, enameled or heavy pot.

Add the orange, zest and the rest of the ingredients and bring up to a boil. If you want to break up the figs more you can use a potato masher or immersion blender to the recipe. Continue to boil for 10 minutes, stirring often.

Remove recipe from the heat after the 10 minutes and ladle into the jars. Remove air bubbles using a plastic spatula and refill the jars leaving 1/4" headspace. Wipe the rims with a wet paper towel and add hot lids from your sterilization pot and rings.
I want to add this more step by step description of the processing since many of my readers might be new to canning:
Place the jars into the water bath canner. In the canner you will want to add 2T. of white vinegar if you have hard water to avoid the cloudiness on the outside of the jars after processing. The water in the canner should be hot, but not boiling. Cover the pot, wait for the water to come back to a boil and then time for 10 minutes.

Once the time has finished, remove the cover of the pot, let the jars rest for 5 minutes still in the water.

Remove the jars and set them on a dishtowel on the counter and do not move or touch them for 24 hours. The jars will, during this time, seal with a pop.