Next up the Tomato Rhubarb Chutney. Another Better Homes and Garden Canning recipe but this time a small batch, only three half pints, but the smell and flavor combination with the rhubarb was very interesting. The tomatoes and the sweetness of the brown sugar gave it a taste like the tomato jam I've made. Then the addition of the onion, garlic, and ginger and the other savory ingredients just blended nicely. Another really great chutney for steak, chicken or a side for fish.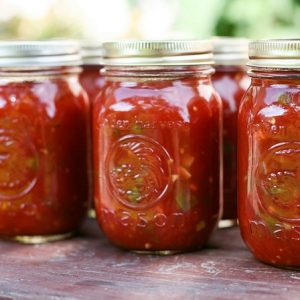 Tomato Rhubarb Chutney
The second recipe for Monday was on the burner once the Green Tomato Chutney was in the canner.
Ingredients
1 1/2

cups

chopped, seeded ripe tomatoes (3 medium)

1/3

cup

chopped onion (1 small)

1/3

cup

coarsely chopped red sweet pepper

1/3

cup

dried cherries, dried cranberries, or raisins

1/3

cup

white vinegar

1/4

up

sugar

1/4

cup

brown sugar

1/4

cup

water

1

T.

bottled lime or lemon juice

1

t.

grated fresh ginger or 1/4 t. ground ginger

1/4

t.

kosher salt

2

cloves

garlic, minced

1

cup

fresh rhubarb cut into 1/2 inch pieces or 1 cup frozen, thawed
Instructions
In a large stainless steel, enamel, or nonstick heavy saucepan, combine tomatoes, onion, sweet pepper, dried cherries, vinegar, sugars, the water, lime juice, ginger, salt and garlic.

Bring to boiling, stirring occasionally, reduce heat. Simmer covered for 25 minutes stirring occasionally.

Stir rhubarb into tomato mixture. Simmer, covered, for 10 minutes. Uncover; simmer about 5 minutes more or until thickened.

Ladle hot chutney into hot half pint jars, leaving a 1/2 inch headspace.

Wipe jars, adjust lids and water bath for 10 minutes starting timing when the water come up to a boil. Make 3 half pints.