Today my niece Kristie, who lives in Ventura, took the plunge and paid it forward by teaching her nieces, Kai and Miranda how to make jelly. Kristie came up last weekend to learn for the first time how to water bath can and went home and made additional jars of Strawberry jam/preserves for the friends and family. She is a natural in the kitchen and I am so proud that she not only came to learn but immediately went home and got to work practicing the craft.
The jelly that she made today with the girls was a probably for her brother. Kristie decided to make a jalapeno jelly but took it "way" up to another heat level and added Habanero peppers. We talked about using the two different types of pectin, liquid and powdered, and the recipes that each apply to. For her recipe she used the liquid and she did a incredible presentation in the jar as it set.
Here is her recipe for Fire in the Hole Jalapeno Jelly: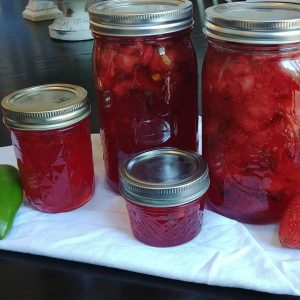 Fire in the Hole Jalapeno Jelly
Fire in the Hole Jalapeno Jelly
Ingredients
1

cup

chopped red bell pepper

1/8

cup

Habanero, deseeded and diced

1/2

cup

chopped jalapeno pepper, deseeded and diced

5

cups

white sugar

1 1/2

cups

cups apple cider vinegar

1

6 fluid ounce

container liquid pectin
Instructions
Remove stems, veins and most of the seeds of the bell, habanero and jalapeno peppers. Mince peppers in a food processor.

In a dutch oven or pot over high heat, combine red bell peppers, habaneros, jalapenos, sugar and vinegar. Bring to a rolling boil; boil for 3 minutes.

Stirring constantly, add the pectin and let mixture cool for 2 minutes.

Pour into hot, sterilized jars 6 half pint jars and fill to 1/4" headspace.

Wipe Rim and top with sterilized lids. Secure lids with bands and process in water bath for 10 minutes on a full boil.