It's that time of the year when the winter has hit the east coast and after the horrific storm, Sandy, I know that many of my followers are probably still without power and dealing with a disaster far worse that I could imagine here in Santa Barbara. My heart goes out to all of the families and friends that are working on putting their lives back together!
On a canning front having jars of soup at the ready will be a great idea when the weather and the storms come and go over the next few months. Recently one of my dedicated followers, Sherrie,  put up a recipe that looks as fantastic as it sounds. The combination of meatballs, beans and vegetables make this soup a great one to grab for on those cold nights.
Thank you Sherrie for also checking with me first on the contents and processing times to make this recipe. It's important for me that everyone keeps making safe, yet delicious recipes. Also I so appreciate you sharing your work and inspiring another great recipe for the canning community!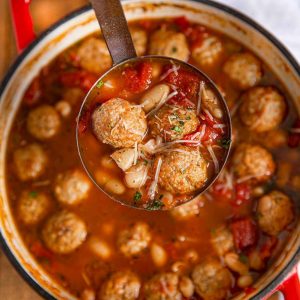 Italian Meatball Soup
Ingredients
1

cup

chopped onions

4

cloves

garlic, chopped

1

PC.

celery rib, halved lengthwise and thinly sliced crosswise

4

PC.

carrots, halved lengthwise and thinly sliced crosswise

5 1/4

cups

reduced-sodium chicken broth (42 fl ounces) (homemade will work too!)

2 1/2

cups

water

20

PC.

precooked meatballs - just ground meat, chicken, or turkey with spices (no eggs or breading)

2

cans (14-ounce)

small white beans, drained and rinsed or 1/2 lb dried, pre-soaked overnight and boiled for 30 minutes

1

PC.

(5- to 6-ounces) bag baby spinach, coarsely chopped

3/4

teaspoon

salt, or to taste

1/4

teaspoon

black pepper
Instructions
Preparation:
Fill your pressure canner with 2 to 3 inches of water and place the rack at the bottom. Please follow the instructions that came with your canner for adding the amount of water. Begin heating the water in the bottom of the canner with the lid off.
Food Preparation:
In a large frying pan sauté the cook onions, garlic, celery, and carrots, stirring occasionally, until onions are pale golden, about 4 minutes.

Put the onions and vegetables in a bowl and set aside. In a stainless steel pot or enameled dutch oven add broth/stock,water, salt and pepper.  Bring to a boil over medium heat.

Leave in pot for 3-5 minutes while you get the jars ready to fill. Remove from heat.
Filling the jars:
You will need 6 pint jars. Put your canning funnel on the jar and using a spoon add 1/4 -1/2 cup of beans, a small handful of spinach, 3 meatballs, and some of the onion/veggie mixture to each jar. Fill each jar with the solids about 3/4 of way full.

Using the ladle scoop the hot broth and funnel into each jar to fill to 1" headspace.  Remove air bubbles with your rubber spatula or chopsticks and refill if necessary.

Taking a clean damp papertowel, wipe the rims of the jars removing any food particles that would interfere with a good seal for your lids.

Using your magic wand extract the lids from the hot water and place them on the now cleaned rims. Add your rings to the tops of each of the jars and turn to seal just "finger tight".
Processing:
Make sure your canning water has come to a simmer and place the jars in the pressure canner.  Lock the lid and turn up the heat bring the canner to a boil.

Vent steam for 10 minutes and then close the vent by adding the weighted gauge or pressure regulator (for dial gauge canner).

Process pints for 75 minutes and quarts for 90 minutes at 10 lbs of pressure (11 lbs for dial gauge canner). Adjust pressure for altitude.

When complete turn off the heat and let pressure return to zero naturally. If you have a lid lock you will want to wait till the lock drops. Wait two minutes longer and remove the weighted gauge or pressure regulator.

Remove canner lid. Wait 10 minutes then remove jars and place on dishtowel in a place that they will sit overnight to cool. Do not touch or move them till the next morning.
Sealing:
Some time in the next hour your jars will be making a "pinging" or "popping" noise. That is the glass cooling and the reaction of the lids being sucked into the jar for proper sealing. Some recipes may take overnight to seal. Check your lids and reprocess any jars that did not seal. Remove rings for storage.
Notes
To serve heat through and add finely grated Parmigiano-Reggiano cheese