Happy New Year to all my readers. I have been ready to get back into the kitchen to work on some new fun recipes, but I wanted to start the year by working diligently on pressure canning. A large part of being sustainable in the pantry is having jars of food that aren't jams, jellies, pickled, or condiments.
I have worked on my first soups but I am taking it slow since there are many things still to consider when pressure canning. For instance, I have been reading more about working with dried beans. I have found many hints regarding the expansion of beans as they are pressure canned. The headspace is important, as well as, the amount of liquid added to the not fully cooked beans that will be absorbed.
I am also interested in putting up chilis and beef stew but I have also read that the results of ground beef in a chili becomes a very strange texture. For a beef stew the leaner the meat the better as an end result.
But first the beans…  I have to admit that I have never cooked any dried beans before now and didn't really know the process of sorting, soaking, straining, and cooking. Any bean I have every needed came in a can not a bag! It seemed a bit overwhelming at first since what does a rock or hard bean really look like. All the black beans are identical, but in the batch with a half hour of time I found a few I needed to toss. I was really excited about the prospect of making a black bean and corn salsa using the pressure canner. Remembering the expansion factor I followed a recipe and turned out a great rendition.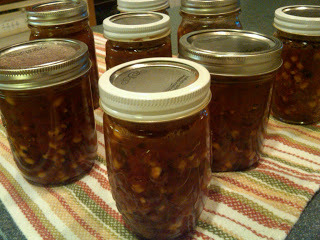 Black Bean and Corn Salsa
My idea is to can the base for chili by preparing a chili bean and vegetables that is ready to be put into the pot and adding cooked ground sirloin. 
Ingredients
4

cups

tomatoes, peeled, chopped and drained

1 1/2

cups

onions, chopped

1

cup

jalapeno pepper, chopped

6

cloves

garlic, minced

1

teaspoon

black pepper

1

T.

Epazote seasoning

1

T.

dried Cilantro

1

t.

red chili flakes

1

T.

Kosher salt

1/3

cup

vinegar

15

ounce

tomato sauce

15

ounce

dried black beans, sorted, soaked overnight, drained and rinsed, then weighed

cups

frozen corn or fresh
Instructions
The night before, sort and soak your dried black beans in enough water to cover them. Leave in a cool place.

The next day drain beans in a colander and put back into a pot adding 4 cups of water and cook for 30 minutes on a simmer. Do not boil as it will cause the beans to split.

To continue prepare 8 pint jars, lids and rings by sterilizing.

Once your beans have cooked the 30 minutes, in a dutch oven, add 15 ounces of the black beans without cooking liquid.

You will have about a two cups left from a dried one pound bag. Add the remaining ingredients and cook for an additional 10 minutes till the mixture is boiling.

Remove from heat and ladle mixture into the hot jars leaving 1" headspace.

The extra headspace is for the expansion and beans absorbing some of the liquid. Put on lids and rings and place into a pressure canner.

Process in canner for 75 minutes at 10 pounds for the pints, 90 minutes if you choose to use quarts.

Note: When the processing time is complete, turn off the burner and let the canner gauge return to zero before you open. Once opened you will notice that your recipe in the jars will still be boiling and bubbling until they are cooled. That is totally normal.

You will find this recipe to be very versatile and you can add more heated peppers for a spicier flavor, more dry spices like cumin to add a smoky flavor, or additional vegetables such as green peppers to add more bulk to the chip.