Vicky sent me a link to a very interesting recipe that was a bit of a combination of the garlic jelly and the sweet chili jam. It uses dry white wine for an interesting flavor change in either of the other recipes. The wine adds the acidity needed not only to stabilize the pH of the low acid peppers, garlic and onions but also to insure that the pectin will set properly.
If you don't use alcohol in your house you can use red wine, cider or plain white vinegar that is 5% acidity, but you will get a different taste to the jelly. Vicky adapted the recipe from "Cooking with Mary and friends" and ask me if it was safe for canning. Thanks again Vicky for your inspiration.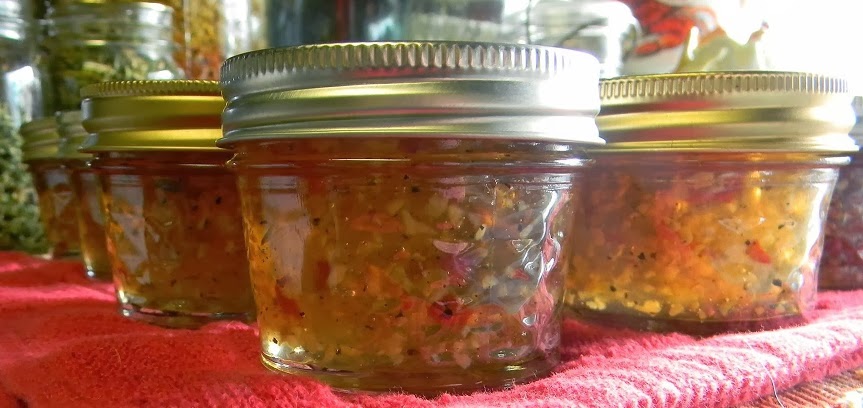 Onion Garlic Pepper Jelly
Here is the recipe that is now a favorite on cream cheese with crackers or a baguette or smeared on chicken, pork or fish as a tangy finish when cooked.
Ingredients
1 3/4

cup

dry white wine  (Vicky used Pinot Grigio by Liberty Creek)

1/4

cup

white wine vinegar (If you don't use alcohol use 2 cups of vinegar)

1/2

cup

finely chopped yellow sweet onion (you can use red onion as well - see below)

4

tbls.

minced garlic  

2

tsp.

course-ground black pepper ( or freshly ground black pepper)

1

pc.

dried crushed long red chili peppers

1

pc.

dried crushed Jalapeno peppers (Vicky used 1 dried peter peppers)

1

pkg.

Sure-Jell (pectin)

3 1/2

cups

sugar
Instructions
Preparation:
Prepare7 half pint jars, lids, andrings. Sterilize the jars and keep them in the hot water till it's time forprocessing. Make sure to fill your water bath canner and get the water to asimmer.  Prepare onions, peppers, and garlic.
Cooking:
In a large stock pot stir together the wine, vinegar, onion,garlic, black pepper, crushed peppers and sure-jell.

Bring mixture to a rollingboil over med-high heat stirring constantly. Quickly stir in sugar and bringback to a rolling boil. Boil and stir 1 minute
Filling the jars:
On a dishtowelplace your hot jars and using your funnel, ladle to fill to 1/4"headspace.  Remove air bubbles and refill to the proper headspace with themixture if necessary.

Taking a clean papertowel wet it with warm water and wipethe rims of the jars removing any food particles that would interfere with agood seal.

Using your magic wand extract the lids from the hot water and placethem on the now cleaned rims. Add your rings to the tops of each of the jarsand turn to seal just "finger tight". 
Processing:
Make sure your rack is on the bottom ofthe canner and place the jars in the water bath making sure that the watercovers each of the jars by 1 to 2 inches. Add hot water to the canner if itdoesn't measure up.

Cover the pot and turn up the heat under the canner andwait for the water to start boiling. Once the water has come to a boil startyour timer for 10 minutes.

When complete turn off the heat and remove the coverand let the jars sit for another few minutes. Remove the jars and place themback on the dishtowel in a place that they will sit overnight to cool.

Gently shake jarsonce sealed from time to time to evenly distribute the onions, garlic and blackpepper.  Do not bangon the jars as you may unseal them. You can skip this step if you areuncomfortable with doing this step. Leave them on the dishtowels till the nextmorning.
Sealing:
Sometime in the next hour your jars will be making a"pinging" or "popping" noise. That is the glass cooling andthe reaction of the lids being sucked into the jar for proper sealing. Somerecipes may take overnight to seal. Check your lids and reprocess any jars thatdid not seal.
Labeling:
Make sure to label your jars after they have cooledwith the name of the recipe and the date canned. If you want to use theshrink labels in the picture you can order them Here!