I went to the first garden exchange of the new year here in mid town Santa Barbara. I brought swiss chard and sorrell since they have been producing more than we can eat and I wanted to cut it back a bit after all the rains. Armed with two big bags of produce I went off to the exchange. The host home was recently remodeled and the gardens in the front were really well done. The owner Thom had begun the layout of his english vegetable garden and had a great plan for the raised beds, gravel pathways, and small fountain for the center.  Inside the kitchen was small but inviting with warm green tones and a commercial size stove that left me green with envy.
The exchange fare were mostly your in season citrus of tangerines, lemons, oranges and a few bags of  carrots. There were a few succulents but given the cold weather and the frost I wasn't surprised.  Since I live in a community that has at least twenty citrus trees, I didn't really need anything and headed off. At the produce market they had blueberries from a local farm which looked great. I got an idea about a great recipe I had seen for a blueberry marmalade incorporating the orange and lemon flavors.
As soon as I got home I got to work. I had picked some great juicing oranges and a few lemons from the trees around my neighborhood. Enjoy!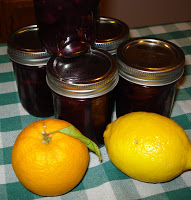 Blueberry Orange Marmalade
Here is the recipe that I put together with a few changes to mellow some of the tartness of the fruit.
Ingredients
1

pc.

medium orange

1

pc.

lemon

2

cups

water

1

stick

cinnamon

2

cups

fresh blueberries

2 1/2

cups

sugar
Instructions
Squeeze juice from lemon and orange in a bowl, put aside. Remove any seeds, slice rinds into very thin slices.

Place rinds in a stainless steel pot with water and cinnamon, bring to a boil over high heat, reduce heat cover and boil for about 25 minutes or until rinds are soft and tender, when done remove cinnamon stick.

Prepare and sterilize your jars, and lids.

Add blueberries and reserved juice cover and boil for 10 to 15 minutes, add sugar, bring to a rapid boil, uncovered until mixture forms a gel. Stir frequently. Remove from heat.

Ladle into sterilized jars leaving a ½ inch headspace, remove and process in water bath for 10 minutes.

This recipe made 5 half pint jars.