I have realized that I am really enjoying adding the vanilla paste to some of my basic preserve recipes since it is a subtle taste and doesn't really over power the fantastic fruit. The Vanilla paste I buy is from William Sonoma and it's about $11 but goes a long way since you don't need to add more than a teaspoon. It is thick like a syrup and has flecks of the vanilla bean in it. My hubby used my last bottle making vanilla ice cream from scratch which was also super yummy and was kind enough to pick me up another bottle for my canning and baking.
It has a great heat and a sweet favor that is perfect for chicken, steak, and just great with cream cheese and crackers. Now this jar of goodness costs me about $6 for a half pint size and I usually could go through one in about a month. I have been searching for a recipe that has that kind of bite and will be easy to make
anytime. Here is the recipe and this is just as good, maybe better than the one at the store!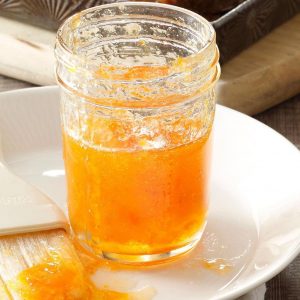 Apricot Pepper Jelly
There is this amazing red pepper jelly that I always buy every time I am up at our house in Big Bear at the Big Bear Mountain Trading Store.
Ingredients
1

cup

red bell pepper strips and then diced

2

cups

cider vinegar

1/3

cup

fresh jalapeño peppers stems and seeds removed

6

ounces

dried apricot halves -- slivered

6

cups

sugar

3

ounces

liquid pectin
Instructions
Combine peppers, vinegar, and jalapeño peppers in a blender or food processor if you don't dice well.

Combine with apricot slivers and sugar in saucepan; bring to boil. Boil and stir 5 minutes.

Remove from heat; skim off any foam, stir in pectin.

Pour into sterilized jars; seal at once. Process in boiling water bath 15 minutes.

This recipe yields 6 1/2 cups.