I am an avid lover and participator in my communities food exchange group where excess produce grown in my garden can be traded for something I don't grow or have never tried before. For the More Mesa Group I volunteered to host the exchange and also do an outdoor kitchen demonstration of canning both asparagus and dilly green beans.
Because I didn't know how many people to anticipate for the afternoon I made two recipes of jars that they could take away to try. Honey spiced peaches and canned fresh tomatoes. The peaches I did in a water bath and the tomatoes in my pressure canner. Below are the recipes taken from the Ball Complete Book of Home Preserving and they both turned out fantastic. The picture below taken by Bonnie who is the coordinator of this area group were items shared at the exchange.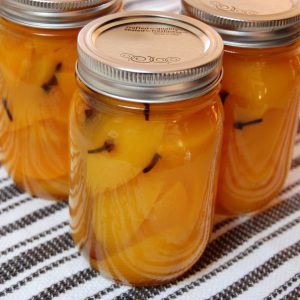 Honey-Spiced Peaches
I did these recipe in half pint jars though there were not many peaches or tomatoes in each it was about the process and the flavor.
Ingredients
8

lb

peaches (about 24 small)

1

cup

sugar

4

cups

water

2

cups

honey

1 - 1/2

tsp

whole allspice

3/4

tsp

whole cloves

3

sticks

cinnamon
Instructions
Prepare boiling water canner. Heat jars and lids in simmering water until ready to use. Do not boil. Set bands aside.

Wash peel and pit peaches. Leave peaches in halves or cut into slices, if desired. Treat fruit to prevent browning. (I used fresh lemon juice)

Combine sugar, water and honey. Cook until sugar dissolves.

Add peaches in syrup one layer at a time and cook for 3 minutes. (I cold packed the peaches and added spices to the bottom first)

Pack hot peaches into hot jars leaving 1/2 inch headspace. Add 1/2 tsp allspice, 1/4 tsp cloves and 1 stick cinnamon to each jar.

Ladle hot syrup over peaches leaving 1/2 inch headspace. Remove air bubbles with a nonmetallic spatula. Wipe rim. Center hot lid on jar. Apply band and adjust until fit is fingertip tight.

Process filled jars in a boiling water canner for 25 minutes, adjusting for altitude. Remove jars and cool. Check lids for seal after 24 hours. Lid should not flex up and down when center is pressed. Make 6 pint jars.

Pressure Canning Fresh Tomatoes

Peel tomatoes using a dutch oven with boiling water and drop in small batches your tomatoes for 30 seconds and immediately into a ice bath and easily peel them.

Load sterilized jars with tomatoes and 1 T of lemon juice. Fill the jars with boiling water over the tomatoes and remove air bubbles then fill again to 1/2 headspace. Please lids and rings on the jars and load up the Pressure canner. Instructions for Pressure canning is below.

Pressure Canner

Follow manufactures instructions for opening and closing the pressure canner. Have 2 to 3 inches of hot water in pressure canner and stand the jars on the rack insert so they are not touching each other or the sides of the pot. Fasten lid and turn on heat.

Steam, mixed with air, will start to flow from the vent and then This is about 8 to 10 minutes after the first sign of steam. As the air is driven out from the canner the steam will change from a white vapor or cloud to nearly invisible.

Start processing time when pressure has been reached, 11 pounds (as sea level).You must maintain a steady pressure during processing.

When processing time is up, remove the canner from heat and let the pressure return to zero without assistance. Standard heavy-walled canners take about 30 minutes when loaded with pints and about 45 minutes when loaded with quarts. Do not attempt to cool pot with cold water. This can cause liquid to escape from jars and keep lids from properly sealing. It can also cause pot warpage.

After pressure reaches zero, wait 2 minutes longer and then slowly open or remove the pet-cock or regulator. Unfasten cover and tilt the far side up so any steam remaining will escape away from you. Using a jar lifter, remove each jar and place on a dry, non-metallic surface or towel. Leave space between jars for air circulation.

After jars have cooled, test for seal and the screw bands may be removed if desired. Be sure to label canned jars with content and processing date. Store jars in a cool dark, dry place.