I went to the farmers market on Sunday looking for something beautiful to prepare for dinner. We get fresh off the boat crab at times during crab season but he wasn't there. I did my usually walk through to see what was available and of course to compare quality and sometimes price. Our farmers markets are pretty regulated within .50c or so between farmers. I saw some beautiful beets, all varieties and the lettuce for salads looked green and fresh. It seems that I always eyeball the most unusually things as my stare came to something that looked like a pineapple guava. I wasn't sure that they were in season quite yet. The helper informed me that they were a variety that originally came from mexico and were banned for many years because they were one of the targets of the fruit fly infestation. In 2008 the ban was lifted and this grower has been growing them here in Carpinteria, CA for last few years.
The texture and flavor is very different from the traditional guava in that it has more of a pulp inside and is almost creamy. When it is not ripe the outside is the green color in the picture above. When they are ripe and ready to use they are soft and the peel changes to a pale yellow.  It has seeds that are small and hard, but the helper let my husband and I taste one and it was delicious and sweet. It has a very flowery fragrance as well.  I decided to get a couple pounds and went home to create an equally delicious jam. I used a classic fruit jam recipe but because of the seeds I cooked the fruit first and pressed it through a fine mesh strainer to get as much of the juice and pulp as possible.  The pulp is going to look very white and milky almost like a mashed banana.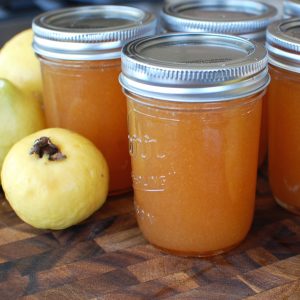 Mexican Guava Jam
Here is the recipe for Mexican Guava Jam.
Ingredients
1 1/2 - 2

pounds

Mexican (or white) Guavas, ripe

1

cup

sugar

2

T.

lemon juice
Instructions
Cut guavas in fourths but do not peel.

Place in a small stainless steel or dutch oven with about 2 T. of water. Cook for about 10 minutes on medium heat, stirring to heat all of the guavas and they become mushy.

Turn off the heat and spoon the guavas into a fine mesh strainer over a clean bowl and using a rubber spatula push the pulp and juice leaving only the seeds and peels.

Return the contents of the bowl to the now cleaned dutch oven and add sugar and lemon juice.

Return to heat to a boil for about 10 minutes. The natural pectin in the guavas will start to thicken the mixture. Cook to gel point.  (If your batch seems thin you can add 3 T. Flex Batch Pectin from Ball. )

Ladle mixture into 2 half pints and process in a water bath for 10 minutes at a full boil.