Zeppole Dessert Recipe is one of the most traditional desserts in Italian Cuisine. You might try different type of Italian dessert before but Zeppole Dessert is so special and extra delectable. You may try our Zeppole Dessert Recipes and give your family and friends a special impression in these dessert recipes. Besides, you can discover more information about Zeppole, such as History of Zeppole.
Are you looking for Zeppole Dessert Recipes? Ingredients used? Steps to make it? That's good! You may gain our best Zeppole Recipe via SBCanning. Enjoy your reading!
Zeppole Dessert Recipe
I learn to make a lot of Italian dessert from my housemate, Susan; Zeppole is one of the Italian desserts. Zeppole also a quick-made dessert because of it require a few steps only and easy to learn. Sometimes, I'm using whipped cream to top over the Zeppole in order to enhance the its flavour. Zeppole is airy and light, deep-fried dough balls, which is made with eggs, baking powder, cheese and flour. Zeppole has a crisp bite and tangy cheese flavoured filling. 
History of Zeppole Dessert Recipe
The history of Zeppole dessert recipes was originated from Italy. Zeppole is also known as St.Joseph's Day cake, which is a traditional dessert during Saint Joseph's Day. Zeppole can be found in every region of Italy, even across Europe.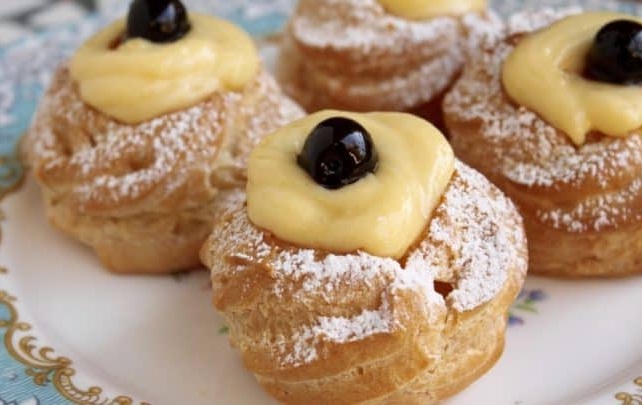 Zeppole Dessert
There are variation of ingredients can be added into Zeppole dessert, such as candied fruits, chocolate chips and honey.
Ingredients
80

grams

all-purpose flour, sifted

2

large

eggs

1

tablespoon

baking powder

1

tablespoon

white sugar

50

grams

cheese, grated

1/2

teaspoon

vanilla extract

1

Pinch

of salt

1/2

cup

vegetable oil
Instructions
Preheat the vegetable oil to 350°F.

In a large bowl, combine the flour, eggs, baking powder, sugar, cheese, vanilla and salt until well incorporated.

Scoop a heaping tablespoon of batter into vegetable oil. Fry a few at a time until they are golden brown.

Use paper towels to drain Zeppole.
Notes
Tips on Preparation of Zeppole Dessert
The tips of Zeppole Dessert Recipes are useful for your preparation. It is additional information for you to enhance the taste and flavor of your Zeppole.
You could even use an electric hand whisk to speed up the process.

While frying, you should set the correct degrees and timing (burnt if the degree too high)

You can sprinkle Zeppole with confectioners' sugar.