Banana Bread Dessert Recipe is one of the most welcomed desserts in American Cuisine. You might try different type of Bread desserts before but Banana Bread Dessert is so sweet and extra delectable. You may try our Banana Bread Dessert Recipes and give your family and friends a special impression in these dessert recipes. Besides, you can discover more information about Banana Bread, such as History of Banana Bread.
Are you looking for Banana Bread Dessert Recipes? Ingredients used? Steps to make it? That's good! You may gain our best Banana Bread Recipe via SBCanning. Enjoy your reading with us!
Banana Bread Dessert Recipe
I like to taste Banana bread because of it contains higher in fibre and protein. I usually sprinkle some confectioners' sugar over the sliced banana bread. Banana Bread is moist, sweet and cake-like quick bread, which made with ground cinnamon, baking soda and delicious with loads of banana flavour. Bread is known as the indispensable foods during breakfast.
History of Banana Bread Dessert Recipe
During 18th century, Banana Bread had been converged in every region of United States. It is originated by housewives who experimenting with pearlash. Banana Bread had developed into many variations on 1960, especially nuts banana bread and chocolate chip banana bread.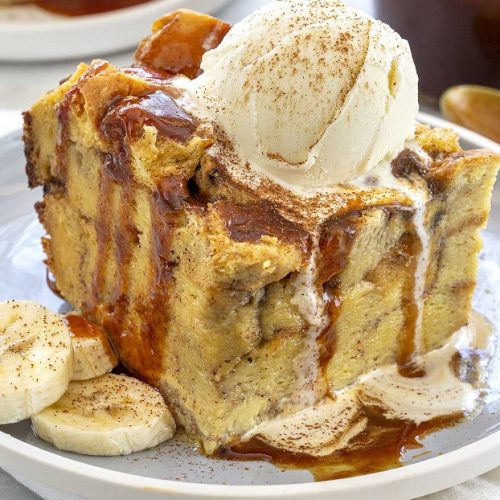 Banana Bread Dessert
I like to taste Banana bread because of it contains higher in fibre and protein.
Ingredients
3-4

ripe

bananas, smashed

40

grams

butter, melted

80

grams

sugar

1

teaspoon

vanilla extracts

1

teaspoon

baking soda

1

Pinch

of salt

200

grams

all-purpose flour
Instructions
Preheat oven to 350 degree.

In a bowl, combine butter with the mashed bananas.

Stir in the sugar, egg and vanilla.

Sprinkle the baking soda and salt over the mixture and mix in.

Pour mixture into a buttered loaf pan.

Place into the preheated oven and bake it for 1 hour.

Take bread out from oven and let it cool completely on rack.

Remove from pan and slice to serve.
Notes
Tips on Preparation of Banana Bread Dessert
The tips of Banana Bread Dessert Recipes are useful for your preparation. It is additional information for you to enhance the taste and flavour of your Banana Bread.
The chosen of bananas should be in ripe

The electric mixer also can be used in the process

While baking, you should set the correct degrees and timing (burnt if the degree too high)