Thanks to my housemate, Susan taught me how to make Ciabatta Bread. I usually taste Ciabatta Bread with cheese, ham and vegetable. Otherwise, there are many ingredients can enjoy with Ciabatta Bread and it is depending on individual favourite. The word 'Ciabatta' is mean Slipper, so we can called Ciabatta Bread as Slipper Bread in Italy. The Ciabatta Bread can be made with various types of recipes. It is oval-shaped bread, which is airy texture, soft and light.
History of Ciabatta Bread Dessert Recipe. Ciabatta Bread is originated from Liguria, located at North-west of Italy. Ciabatta Bread is known as traditional Italian Dessert and it also can be found in every region of Italy. The olive, salt and marjoram always seasoned in Ciabatta Bread Dessert Recipes, especially in Rome.
Ingredients of Ciabatta Bread Dessert Recipe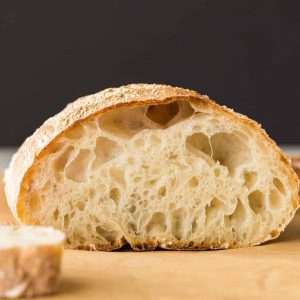 Ciabatta Bread Dessert
To prepare the Ciabatta Bread Dessert for 4 persons serving, you are required to ready the following ingredients.
Ingredients
200

ml

water

2

teaspoons

salt

1 1/2

teaspoons

sugar

1 1/2

teaspoons

olive oil

250

grams

all-purpose flour, sifted

2

teaspoons

active dry yeast
Instructions
How to make Ciabatta Bread Dessert
Preheat oven to 400 degrees.

In a bread machine pan, combine the flour, water, salt, sugar, olive oil and dry yeast gradually.

Resist the temptation to add more flour after the dough is sticky and wet.

Use a large bowl to cover the dough and let it rest for 20 minutes.

The dough is divide into 2 pieces.

Place loaves on lightly floured baking sheets, dimple the surface and lightly flour.

Let it rise for 45 minutes.

Dimple the dough for second time and place into the preheated oven.

Spray water on the loaves every 3 minutes.
Tips on Preparation of Ciabatta Bread Dessert
The tips of Ciabatta Bread Dessert Recipe are useful for your preparation. It is additional information for you to enhance the taste and flavour of your Ciabatta Bread.

While baking, you should set the correct degrees and timing (burnt if the degree too high)

You should place water in an oven safe bowl in order to increase the humidity in the oven during baking.

The purpose of spray water during baking is to prevent the crust from forming too fast and result in a nice golden brown crust.