Carrot Cake Dessert Recipe is one of the most welcomed desserts in British Cuisine. You might try different type of Cakes dessert before but Carrot Cake Dessert is so sweet and extra delectable. You may try our Carrot Cake Dessert Recipes and give your family and friends a special impression in these dessert recipes. Besides, you can discover more information about Carrot Cake, such as History of Carrot Cake.
Are you looking for Carrot Cake Dessert Recipes? Ingredients used? Steps to make it? That's good! You may gain our best Carrot Cake Recipe via SBCanning. Enjoy your reading!
Carrot Cake Dessert Recipe
In the European Trip, I tried varieties of cuisine and desserts. Carrot Cake is one of the desserts, which I enjoyed in a small cafe of London. Besides this, I also tasted a lot of European desserts, such as Tiramisu, Chocolate Zabaglione, Biscotti and Pavlova. Carrot Cake is a sweet cake, which is principally made with grated carrot, flour and eggs. The flavour, texture and appearance of the cake were enhanced by the carrots. Carrot Cake can be taste with white icing or margarine; however it also can be eaten plain. There are variations of ingredients, which can be added to carrot cake dessert recipes, such as raisins, pineapple, nuts, coconut or chocolate. 
History of Carrot Cake Dessert Recipe
Carrot Cake Dessert Recipes was origin from British. The history of Carrot Cake can be traced back to the time of Second World War. The popularity of carrots was highly been used during which sweeteners were scarce and expensive because of the carrots contain more sugar than any other vegetables.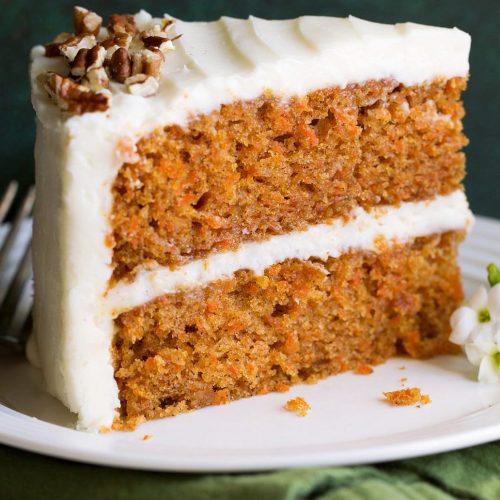 Carrot Cake Dessert
Carrot Cake is usually formed in loaf, sheet cake and cupcake.
Ingredients
50

grams

granulated sugar

100

ml

vegetable oil

2

large

eggs, beaten

1/2

tablespoon

vanilla extract

100

grams

all-purpose flour, sifted

1

tablespoon

baking powder

1

tablespoon

baking soda

1/2

teaspoon

salt

1

tablespoon

cinnamon

150

grams

carrots, grated
Instructions
Preheat the oven to 350°F.

In a large bowl, combine the flour with the baking powder, baking soda, salt, and cinnamon and stir until well incorporate.

In another bowl, stir vegetable oil with the sugar, eggs and vanilla.

Pour dry mixture into the wet mixture and whisk them until well blended.

Pour slowly into a greased round pan.

Place into the preheated oven and bake it for 25 to 30 minutes or until inserted toothpick comes out clean.

Remove the cake out from the oven and let it cool completely.

Slice to serve. Enjoy it!
Notes
Tips on Preparation of Carrot Cake Dessert
The tips of Carrot Cake Dessert Recipes are useful for your preparation. It is additional information for you to enhance the taste and flavor of your Carrot Cake.
While baking, you should set the correct degrees and timing (burnt if the degree too high)

You can top the carrot cake with icing or margarine in order to enhance its taste.