Cassata Cake Dessert Recipe is one of the most welcomed desserts in Italian Cuisine. You might try different type of Cakes dessert before but Cassata Cake Dessert is so sweet and extra delicious. You may try our Cassata Cake Dessert Recipes and give your family and friends a special impression in these dessert recipes. Besides, you can discover more information about Cassata Cake, such as History of Cassata Cake.
Are you looking for Cassata Cake Dessert Recipes? Ingredients used? Steps to make it? That's good! You may gain our best Cassata Cake Recipe via SBCanning. Enjoy your reading!
Cassata Cake Dessert Recipe
During my University days, I learnt the Cassata Cake dessert recipes from my housemate, Susan. And then, I try to make it for my best friend's birthday cake. It's my first time to prepare birthday cake and felt so good on the result. Cassata Cake is a type of sweet sponge cake dessert recipes, which has been covered with ricotta cheese filling. The ratio of eggs and flour will affect the texture of Cassata Cake. Cassata Cake dessert usually topped with dried fruits or nuts. Cassata Cake can be stored in refrigerator until serve. 
History of Cassata Cake Dessert Recipe
The History of Cassata Cake was originated from Palermo, Sicily, Italy. Cassata Cake can be making with various ways, as recipes vary from region to region, and family to family. Cassata Cake Dessert Recipes have been brought to America by Italian who immigrated to the United States. During 1920s, Cassata Cake became popular dessert and available in many bakeries and restaurants.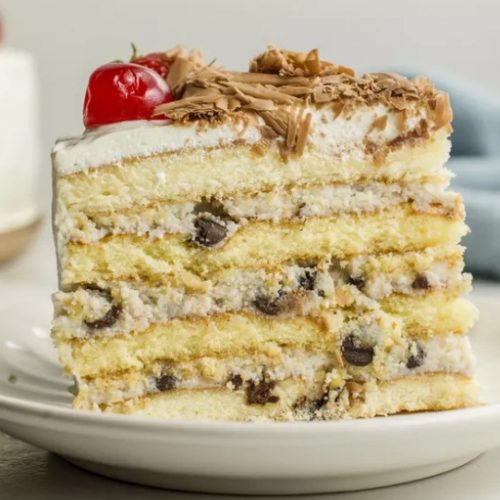 Cassata Cake Dessert Recipe
Cassata Cake is one of popular birthday cake, which can be garnished with different ingredients.
Ingredients
For the Cake:
100

g

cake flour, sifted

3

large

eggs, separated

1/2

teaspoon

baking powder

70

g

white sugar

150

ml

water

1

teaspoon

vanilla extract
For the Ricotta Cheese Filling:
30

g

ricotta cheese

250

ml

milk

150

g

granulated sugar

100

g

semi-sweet chocolate

1

teaspoon

vanilla extract
For the Rum Syrup:
2

tablespoons

white sugar

100

ml

water

1

tablespoon

rum
For the Chocolate Glaze:
200

g

semi-sweet chocolate, melted

2

tablespoons

whipping cream

2

tablespoons

butter, softened
Instructions
Preheat the oven to 325°F. Grease and butter a cake pan.

For the cake, combine the flour and baking powder in a medium bowl.

In another bowl, stir the egg yolks, white sugar, vanilla and water until thicken. And then, pour the flour mixture into egg yolks mixture and stir well.

Stir the egg whites until light and fluffy. And then, pour it into flour mixture.

Place into the preheated oven and bake it for 15 to 20 minutes.

Remove the cake from oven and let it cool to room temperature.

For the Ricotta Cheese Filling, combine ricotta cheese, milk, sugar, chocolate and vanilla in a medium bowl. Stir it well.

For the Rum Syrup, combine the rum, water and sugar in a saucepan. Use low heat to cook the mixture for 5 minutes. Set aside.

For the Chocolate Glaze, combine the chocolate, cream and butter in a bowl. Stir it well.

For the Assembling, sprinkle rum syrup on the cake and spread the ricotta cheese filling over the cake. And then, top the cake with the chocolate glaze.

Slice to serve. Enjoy it!
Notes
Tips on Preparation of Cassata Cake Dessert
The tips of Cassata Cake Dessert Recipes are useful for your preparation. It is additional information for you to enhance the taste and flavour of your Cassata Cake.
The electrical mixer can be used in this process as more efficiently.

While baking, you should set the correct degrees and timing (burnt if the degree too high)

You can insert a toothpick in the center of cake to check whether the cake is success. If the toothpick comes out clean, the cake is ready.