SBcanning is keen on grilling, but keep it to a minimum; as you know, it is not the healthiest way to eat because of the charred parts on the meat. But the Asian Salad and the Citrus Dressing that goes with it is very healthy.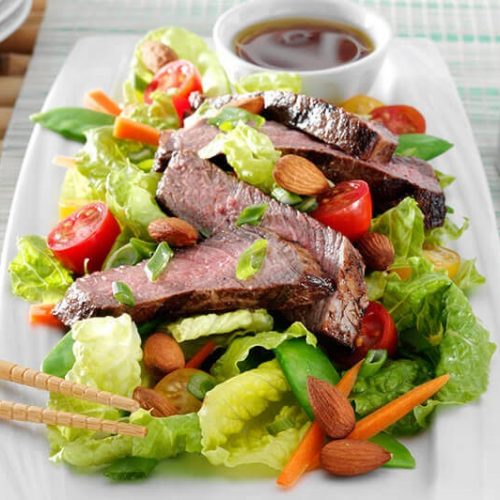 Grilled steak-asian style salad
Grilled steak-asian style salad
Ingredients
STEAK:
1

lb

beef flank marinating steak

1/2

bunch

of cilantro, stems roots and leaves.

2

cloves

elephant garlic, minced

1

tbsp

ginger root, minced

2

tbsp

Hoisin sauce (go to Asian section of grocery store)

2

tbsp

freshly squeezed lemon juice

2

tbsp

light soy sauce ( it is available now-cut salt down)

1

tsp

Asian hot chili paste
SALAD INGREDIENTS:
10

cups

of mixed salad greens definitely washed well with water, patted dry and put in refrigerator to crisp

1

large

thinly sliced, English Cucumber

1/2

cup

chopped fresh cilantro (can use fresh parsley if preferred)

1/4

cup

fresh mint

1/4

cup

freshly cut green chives in 1/8 inch pieces
CITRUS DRESSING:
1/3

cup

sugar/Splenda replacement

1/3

cup

water

1/3

cup

shredded carrot

2

tbsp

rice vinegar

2

tbsp

orange juice

1

tbsp

fresh lemon juice

1

tbsp

salt reduced soy sauce

1

clove

elephant garlic minced

1/2

tsp

hot Asian Chili paste
Instructions
Mix marinade combining half of the cilantro, garlic, ginger root, hoisin sauce, light soy sauce, lemon juice and chili paste in food processor and blend until mixture becomes a puree.

Pour marinate into a large seal-able freezer bag. Place meat in bag with sauce; press any excess air out and let sit in refrigerator for 1 to 12 hours, depending on your dinner schedule.

Set on a medium-high grill, 5 minutes per side.

Let stand for 10 minutes, prior to cutting on diagonal, thin slices.

Arrange salad greens on a flat serving dish. Set cucumber slices neatly on top of greens.

Garnish with mint, cilantro and chives.

Place steak slices on top and drizzle with Citrus Fruit Dressing.

This is a dynamite Healthy Recipe with fresh garden herbs and other greens, carrots oh yummy!

Creative Healthy Recipe serves 6. Enjoy!