It is generally served with yogurt raitas and pickles; although, this dish may be served as a side dish to almost any meal. It is colorful and delicious.
Cauliflower provides us with an excellent source of Vitamin C, folate and potassium. It is low in calories and high in fiber.
Potatoes are from the nightshade family yet provide us with Vitamin C, B6 and potassium and other minerals. Potatoes used to be an inexpensive food, are very filling and compliments many other foods. Potatoes can be created into a multitude of different ways.
Let us get on with this one…….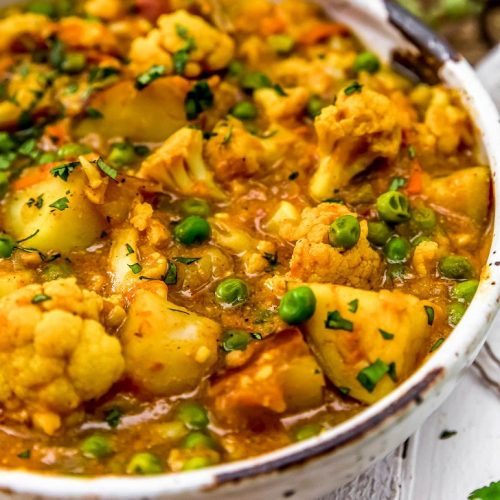 Cauliflower & potato curry
This recipe is traditionally Punjabi style curry and is eaten with Indian breads-naan and chapattis.
Ingredients
6

elephant

garlic cloves

1/2

inch

piece fresh ginger peeled, chopped coarsely

1

cup

Spanish Onion chopped

½

tsp

ground coriander

½

tsp

ground cumin

3

fresh

red Thai chilies (in Asian Section Grocery Store)

8

tbsp

olive oil

2

large

boiling potatoes prepared by boiling, cooling

peeled and cut into 1" cubes

5

cups

cauliflower florets cut into 1 ½" pieces

1

tsp

whole cumin seeds

½

tsp

ground cumin

½

tsp

ground turmeric

1

tsp

cayenne pepper

1

cup

grated ripe tomato

3

whole

small hot green chilies-put small slits in them

1

tsp

sea salt

1

tsp

freshly ground pepper
Instructions
Put garlic, ginger and onion into blender and add 1/3 cup water. Pulse until in puree form. This is the part I love-when the aroma hits my nose…. Set puree aside.

Heat olive oil in skillet over medium heat; when hot, add potatoes and cauliflower to saute, stirring occasionally until veggies are light brown. Take out veggies with a slotted spoon and set aside. Take out all oil, except 3 tbsp from the skillet; then return to heat.

Add cumin seeds. Quickly add spices: coriander, ground cumin, turmeric, and cayenne. Stir for 3-4 minutes. Then add tomatoes, cooking for another 2-3 minutes, until the aroma fills the air!

Add cauliflower flowerettes and cubed potatoes, 2 ½ cups warm water and the slitted hot chilies. Stir well and let the curry simmer while covered over low heat for 3-4 minutes. Sprinkle with sea salt and freshly ground pepper.

Heavenly! Here at SBcanning, we promote the use of spices, as many spices, included freshly ground pepper are known to assist the digestive system health, and fend off minor infections.

So enjoy this scrumptious side dish which will blend with a variety of fishes, meats or eat it as a vegetarian dish. Serve with Jasmine Rice, Basmati Rice along with a meat dish if you prefer.

Serves 4- 6. Thumbs up from all of us at SBcanning!