Fresh or dried cranberries contain bioflavonoids which are thought to help prevent cancer and protect the eyesight and are used as a cleanse for the bladder and help to prevent bladder infections-cranberries also contain fiber. Lemons are low cal, an excellent source of Vitamin C, and act as a sprinkle for many salads, for fish, plus they are a great garnish for fish products and salads, as well as many beverages. Oranges we all know are jam packed with Vitamin C, contain fiber, and are a good source of beta carotene, folate, thiamine and potassium. Oranges are used all year round as a favorite to most children and adults alike.
Okay-lets get to the good stuff-the beverage……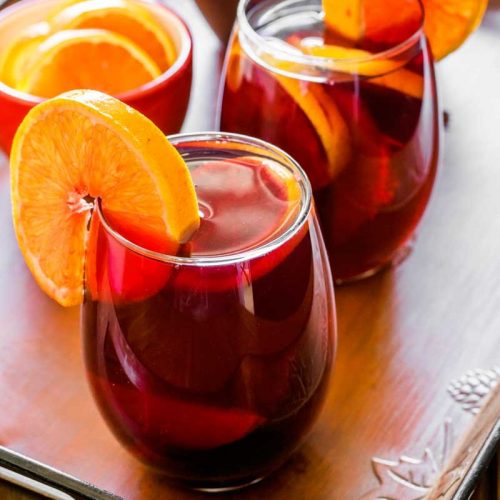 Sangria surprise!
Here at SBcanning, we want to make certain that your beverages are full of healthy fruits and this recipe contains just that.
Ingredients
2

oranges

thinly sliced

1/2

lemon

thinly sliced

1/2

cup

sugar (or Splenda sugar replacement)

8

cups

of cranberry pomegranate juice.

2

bottles

of dry red wine

1/3

cup

Brandy

2

cups

Soda Water
Instructions
Combine orange slices, lemon slices, Splenda (sugar) and cranberries in a large pitcher. Add cranberry pomegranate juice, wine and brandy.

Sangria can be made 24 hours in advance-just keep these ingredients chilled in the refrigerator until ready to serve.

Just before serving, pour in soda water; pour in fancy glasses, making certain that there is some fruit in each glass, and then pour the cranberry pomegranate juice over ice in glasses.

Serves 16 one cup servings.

Thumbs up from SBcanning on this one!

PS: I love to serve Sangria Surprise at Christmastime as it is such a delight, fresh and crispy drink..