These are the kind of muffins I like-home made! Apples have numerous good qualities about them-so the saying goes "An apple a day keeps the Doctor away". Apples contain fiber, which lowers the cholesterol, contain a good source of flavonoids, and are low in calories.Oats help keep our heart healthy, provide fiber and nutritionally, contain good carbohydrates. Oats have many uses, particularly in cereals, but also can be used as a filler in making meat casseroles, burgers and meatloaves.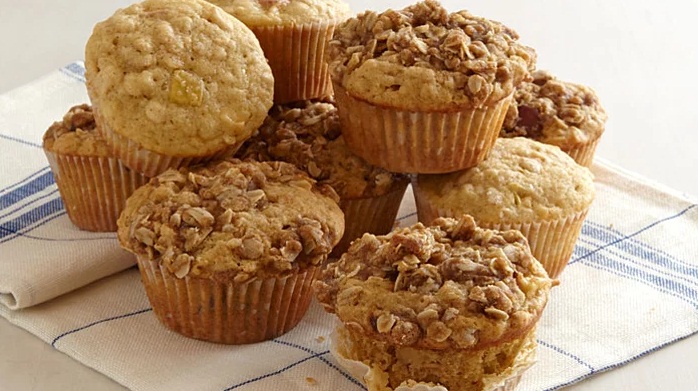 Apple-oat muffins home made
Today we are making an old fashioned Apple Oat Muffin recipe.
Ingredients
2

Cups

Old Fashioned or quick cooking oats, uncooked1 1/4

1 1/4

cups

of Nutriblend or All Purpose flour

1/2

cup

packed brown sugar

2

tsp

baking powder

3/4

tsp

sea salt

1/2

tsp

cinnamon

1

cup

buttermilk

2

tbsp

olive oil

1

large

egg lightly beaten

1

cup

shredded tart apple such as Granny Smith, Royal Gala or Golden Delicious

1/2

cup

chopped walnuts
Instructions
Lightly grease 12 standard muffin-cups.

In a large bowl mix oats, flour, baking powder, baking soda, sea salt and ground cinnamon.

In medium bowl, beat buttermilk, olive oil, and egg with hand blender, until frothy. Stir in shredded apples.

Add small bowl contents into large bowl with flour and oat mixture, blending until mixture is just moistened; then add chopped walnuts.

Spoon batter into prepared muffin tins.

Bake 23-25 minutes or until muffins begin to brown; check the center with a toothpick. If it comes out clean, muffins are done.

Remove muffins from pan onto wire rack to cool for serving later.

Otherwise serve the muffins warm with a pat of butter (remember portions) and a coffee of your favorite choice or herbal tea.