Cauliflower is a rich source of nutrients especially vitamin C and folate, and a reasonable amount of potassium and Vitamin B6. It also contains biovflonoids and other ingredients that help to prevent cancer.
SBcanning suggests that when cooking, you must boil or steam to the point that the cauliflower is still firm, to retain the flavour and keep the nutrients. Cauliflower can be cooked in an open pot (preferably stainless steel or glass), as iron and aluminium will change the color and taste.
Now, on to the recipe!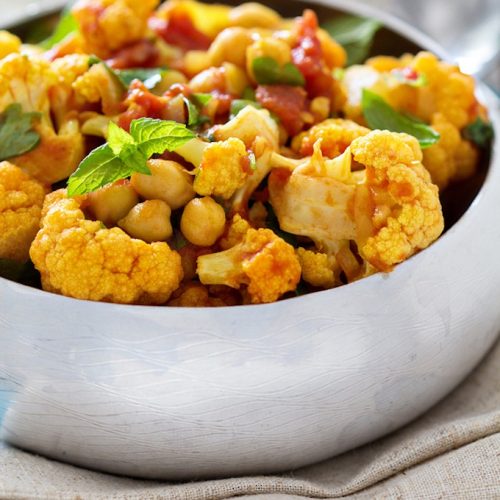 Cauliflower indian spiced
Cauliflower is considered the King of the Cabbages.
Ingredients
2

tbsp

unsalted butter

2

tsp

ground cumin

1/2

tsp

ground coriander

1

tbsp

freshly ground ginger

1

medium

cauliflower, separated into small florets

1

small

tomato finely chopped

1/2

cup

low sodium chicken broth

1

tsp

sea salt

1/2

tsp

freshly ground pepper

1

tbsp

chopped fresh cilantro
Instructions
Using a large skillet, melt unsalted butter over medium heat. Add cumin, coriander and freshly ground ginger. Cook these spices until they become fragrant.

Add cauliflower florets and tomato to the skillet. Turn heat to high and add sodium chicken broth, sea salt and pepper and bring to boil, cover, turn heat down to simmer.

Cook mixture until cauliflower florets are firm (about 5 minutes), remove lid and continue cooking until broth has basically disappeared, watching the cauliflower is not too tender-3-5 minutes.

Place mixture of Indian Spiced Cauliflower into a fancy serving dish to compliment the colours, and garnish with chopped cilantro.

You are ready to serve. SBcanning gives another thumbs up to this one!

Serves 4-I am proud to serve this side dish any time!