Snow peas have the lowest carbohydrate count of all peas and they are high in pectin and other fiber as well. Snow peas are a good source of Vitamins A and C. Peas provide a whole protein when served with a whole grain. Needless to say, they are very low in calories.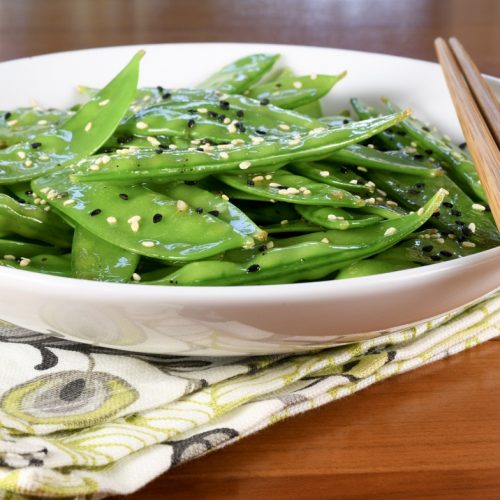 Sesame snow peas
Very brief cooking keeps them bright green and keeps that crunch you will want. SBcanning recommends these highly.
Ingredients
1/2

lb

snow peas, trimmed and strings pulled off

1

tsp

sesame oil

1

tsp

Kikkoman soy sauce

2

green

onions, thinly sliced

1

tsp

sesame seeds, lightly toasted
Instructions
Cut snow peas on diagonal into long thin slices.

Blanch snow peas 30 seconds in large pot of lightly salted water. Drain snow peas in colander. Rinse under cold water and drain well. Transfer blanched and rinsed snow peas to fancy 2″ high dish.

Toss snow peas with sesame oil, Kikkoman soy sauce, green onion and sesame seeds.

Voila-you are now ready to serve.

Recipe of snow peas is a side dish that will go well with any meat, poultry or fish dish. Served as vegan dish as well.