I make my vinaigrettes: several of my favorites, I make ahead of time to do me for a week or two. Then I just whip up the salad and..voila! I have the vinaigrette for the salad in my hands.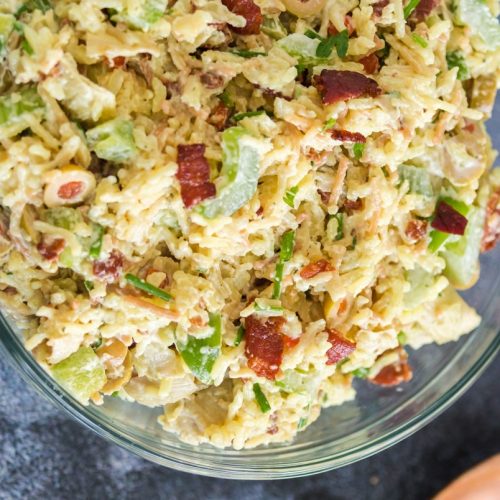 Ingredients
SALAD INGREDIENTS:
1

cup

uncooked regular long grain rice (brown is better for you)

1

Lemon

Garlic Vinaigrette as below.

1/4

cup

chopped green onions

1/4

cup

fresh chopped parsley

1

small

red pepper, chopped

1

can

(14 oz) artichoke hearts, drained and cut into quarters.
Lemon Garlic Vinaigrette:
1/4

cup

extra-virgin olive oil

1

tbsp

grated lemon peel

3

tbsp

lemon juice

1/2

tsp

sea salt

1/4

tsp

freshly ground pepper

tsp

garlic, minced
Instructions
SALAD INSTRUCTION:
Cook rice as directed on package.

Mix rice and green onions, freshly cut parsley, one small red pepper chopped and artichoke hearts quartered.

Toss with Lemon Garlic Vinaigrette as below.

Cover and chill for at least 3 hours and serve.

I am so in favor of home-made vinaigrettes, and this one just touches me. The taste is wondrous.

Healthy Recipes says this salad serves 8 people.
Lemon Garlic Vinaigrette INSTRUCTION:
Mix all ingredients in a blender 1 cup container.

Healthy dressing is ready to serve. Recipe makes 1/2 cup, dressing for 4 servings.