It will tantilize your tastebuds and will be one you will NOT forget. Use organically grown chicken, for that extra special flavor. I am very proud of this recipe!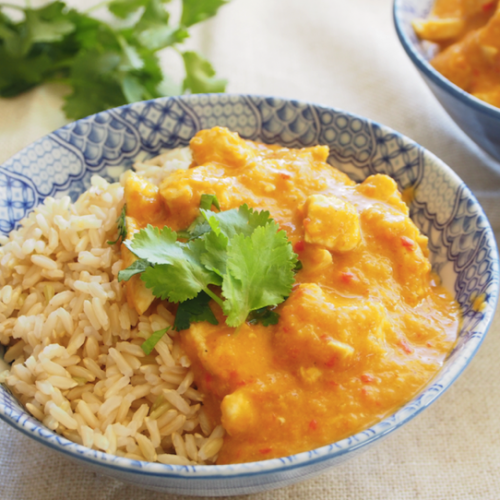 Chicken and apple curry
SBcanning created this incredible main course recipe and I use it regularly.
Ingredients
6

pieces

of chicken, either chicken breasts or thighs

1

can

(14 ounces) stewed tomatoes

6

ounces

coconut milk

3

apples

cored and chopped into small pieces (1/2″x 1″)

1/2

cup

Sun-Maid raisins

1

small

tin of water chestnuts

1/4

cup

Nutri-Blend flour

1

tsp

sea salt

1/2

tsp

freshly ground pepper

2

tbsp

extra-virgin olive oil

1

tbsp

chopped gingeroot

1

tbsp

chopped Spanish onion

1-14

oz

tin of drained baby artichokes cut in halves

2

tbsp

curry powder

1/2

tsp

cinnamon

1

tbsp

brown sugar

1/4

cup

chopped fresh coriander or parsley

1

jar

of Butter Chicken Sauce (my favorite is Sharwoods)
Instructions
Separate chicken thighs and chicken breasts. Remove any skin or bones. Chop chicken breasts into smaller pieces approximately 2″ by 2″. In a paper bag, combine the flour, sea salt, freshly ground pepper and shake chicken pieces to coat lightly. Set aside.

In a large skillet, heat 1 tbsp of virgin olive oil over medium-high heat; brown the chicken in batches if necessary, for approximately 5 minutes on each side. Remove from skillet and set aside.

Add remainder of olive oil, garlic, minced ginger root, onions for about three minutes untill the onions are transparent. Stir in curry powder, cinnamon, ground cumin and cook for another minute. Add tomatoes and coconut milk, scraping all the while, turning the chicken once, for 15 to 20 minutes, or until the juices become clear. Add raisins, artichoke hearts, apple and brown sugar bringing the mixture to a boil over medium-high heat; cook uncovered, adding the water chestnuts. If you need to thicken the mixture, add 2 tbsp. cornstarch mixed in water first.

Now, this is where I like to add my jar of butter chicken sauce (I really prefer Sharwood's Butter Chicken Sauce). This is an option, but I like the extra thickness and flavor the butter sauce gives the chicken. Let the curry chicken with butter sauce simmer for 10 minutes more uncovered. Stir in corainder.

This recipe can be frozen in packages and reheats by covering and using a medium-high heat first few minutes, then on simmer.

I prepare approximately 3 cups of Jasmine Rice and serve the Chicken and Curry Sauce over the rice. It is the most colorful dish and if you add parsley or coriander for that extra touch it will be simply marvelous.

SBcanning gives this delightful curry and chicken dish another thumbs up!

This healthy recipe is relatively high in calories-approximately 500 calories per serving, but it has most incredible taste with healthy spices, protein, and vegetables, that create the most sensuous dish that is all-encompassing as a full course meal. I have served so many people with this tasty recipe and received nothing but overwhelming compliments!