SBcanning has another incredible edible in salads. Beans are nature's only complete food, containing the right amount of protein and carbohydrates for the body to work with, and when mixed in a salad with mangoes, bell peppers and cilantro-what a taste to behold.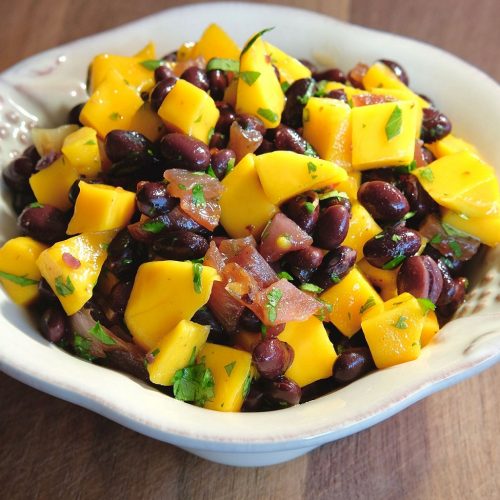 Mango black bean salad
Black beans are full of protein and very healthy.
Ingredients
1 15

ounce

can of black beans, drained and rinsed

2

cups

diced mango

1

cup

diced sweet bell pepper

6

green

onions sliced thinly

1/4

cup

fresh cilantro leaves

1/4

cup

fresh lime juice

1

tbsp

olive oil

1

jalapeno

pepper with seeds removed and minced

1

dash

Sea salt and fresh pepper to taste.
Instructions
In medium size salad bowl, mix black beans, diced mango, diced sweet red bell pepper, green onions sliced, freshly chopped cilantro leaves, lime juice, olive oil and jalapeno pepper together. Mix gently in salad bowl.

Add freshly ground pepper and sea salt to taste.

Healthy Recipe serves 4-6 people.

SBcanning gives another thumbs' up.