SBcanning recommends "home-made" especially when it comes to making sauces, similar to this one, because, then we know exactly what is in the sauce. It is a good thing to remember this, as our society has become so fast-paced, so that our food is so often bought at the store, pre-packaged, and we never really know what we are eating.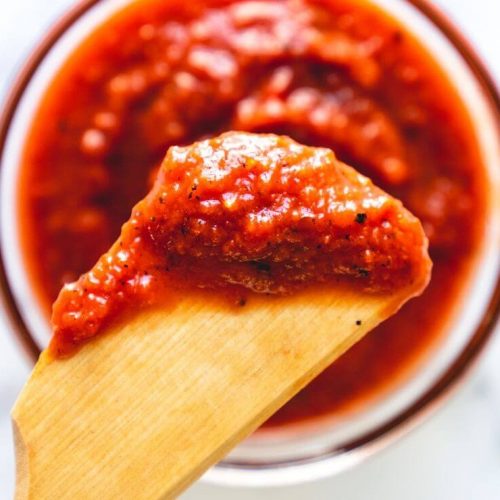 Home-made pizza sauce
Today, we will make a Pizza Sauce, just to show you how easy it really is.
Ingredients
1

tbsp

extra-virgin olive oil

1

elephant

clove of garlic, minced

1

Spanish

onion, chopped finely

1

can

stewed tomatoes (my favorite is Aylmer's or Hunt's)

2

small

jars tomato paste

1

tsp

dried basil

1/2

tsp

brown sugar

1

Dash

of freshly ground pepper

1

tsp

dried oregano

1/2

bay

leaf
Instructions
Saute onion and garlic in the olive oil until transparent and soft; then add the remaining ingredients, mixing while adding them.

Simmer on very low for 1 hour, or until sauce thickens; stir occasionally during the simmering time.

Healthy Recipe yields sauce to make 1 large or 2 medium pizzas. Taste is the best.

Look under Main Categories, Pizza for the sauce and yummy different toppings to see what is your fancy.