SBcanning has found this tasteful, tart dressing to be used in potato salads, in your favourite or mixed green salads or your favourite sandwiches to add that special tangy flavour. What is so special about watercress is that it creates a crunchy sandwich, potato salad or a mixed greens salad, contains zero calories, and is especially healthy as it is a perennial that grows in on the sides of the streams, and its pungent leaves give a special zippy taste to soups, salads and sandwiches. I will mention below the soup recipe and salads, so you may look those up after the Healthy Living Dressing Recipe.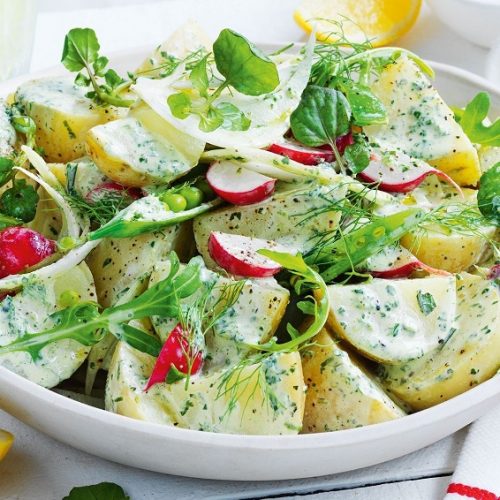 Watercress Dressing for Potato & Green Salad
Watercress Dressing for Potato Salad or Green Salad
Ingredients
1

cup

watercress, lightly packed with stems removed

2

hard-boiled

egg yolks

1/3

cup

extra-virgin olive oil

3/4

tsp

red wine vinegar

1/2

tsp

Dijon mustard

1/4

tsp

sea salt

1/4

tsp

freshly ground black pepper

1/4

tsp

anchovy paste (optional)
Instructions
Using the smaller part (1 cup) of your blender, place all ingredients into blender cup.

Blend on low speed, until all ingredients, particularly watercress is minced finely.

Deliciously healthy, blended dressing makes approximately 3/4 cup.

Note: 1 Tbsp is about 64 calories

This delightfully healthy watercress recipe makes 3/4 cup dressing.