SBcanning says this recipe is just the "best" for company with kids or adults and is so easy when you purchase the tortilla salad shells; they really dress up the recipe. Try to purchase low salt salad shells.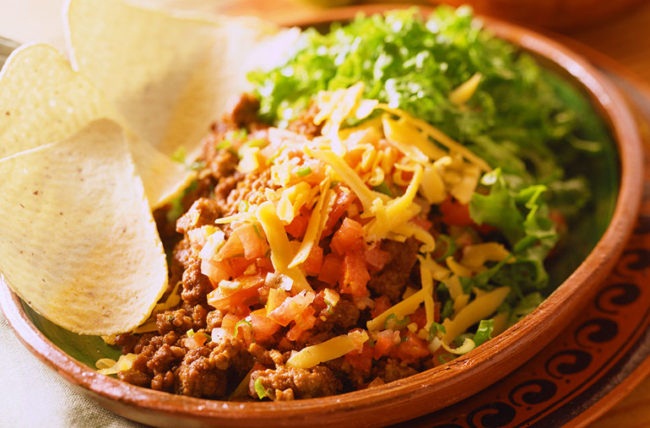 Vegetarian rice-bean taco salad
Vegetarian rice-bean taco salad
Ingredients
8

tortilla

salad shells (low salt – whole wheat)

3/4

cup

low cal Ranch dressing (unless you have another favorite)

1

cup

wild rice

1

tbsp

extra virgin olive oil

1

tsp

dill freshly cut

1/2

tsp

sea salt

1/4

tsp

minced garlic

1/2

cup

green pepper, diced

1

can

drained and rinsed red kidney beans

1

head

Romaine lettuce torn into bite size pieces

1

cup

light shredded Cheddar cheese

2/3

cup

sliced black olives

2

medium

hot house tomatoes coarsely chopped

1

medium

Spanish onion chopped

1

tbsp

Light sour cream
Instructions
Set aside Tortilla salad shells, and dressing.

Stir in water, freshly cut dill, sea salt, minced garlic, diced green pepper and beans and wild rice.

Heat mixture to a boil and reduce heat. Simmer uncovered for 15 minutes, stirring occasionally. Set aside to cool for 15 minutes.

Mix lettuce pieces, grated Cheddar light cheese, diced tomatoes and chopped onions in a large bowl and toss with your favorite low cal dressing (mine is Ranch) or make your own.

Add cooled rice and beans mixture and toss lightly with other ingredients.

Add evenly to eight salad taco shells and garnish with light sour cream. Place in refrigerator until ready to serve.

SBcanning is proud to serve this nutritious meal. Yummy! Enjoy your meal.

Healthy Recipe serves 8 people.