Kale gives the soup a peppery taste. Kale is a member of the cabbage family and if you have not used kale prior to this, look for a green leafy vegetable, sometimes red, purple and yellow. All varieties of kale are edible and highly nutritious, containing vitamin C and E, beta carotene, and it is a good source of folate, calcium, iron and potassium. Kale is eaten as a regular vegetable and dresses soups and a variety of dishes with not only the peppery taste, but an excellent flavor. We highly recommend kale as part of your diet for healthy living.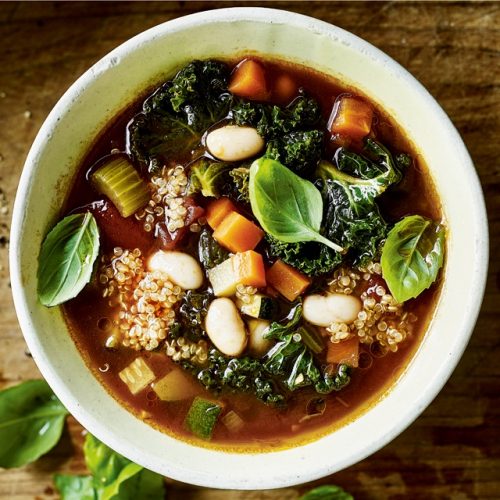 Minestrone soup with kale
SBcanning has found this delectable Minestrone soup with Kale added to it.
Ingredients
2

tsp

olive oil

2

medium

zucchini, cut into quarters, then sliced into 4-inch strips

3 1/2

oz

baby carrots, cut into halves width wise

1

medium

onion, chopped into 1/4 inch pieces

2

cups

kale, coarsely chopped

4

cups

vegetable broth

1

cup

tomato juice or V-8 juice

15

oz

white kidney beans or great northern beans, drained and rinsed

1/4

tsp

ground sea salt

1/4

tsp

ground pepper

1/2

cup

uncooked rotini

3/4

grated

Parmesan cheese (use fresh shaved for best flavor)
Instructions
Heat oil in a large pot. Add zucchini, carrots and onion.

Saute for 3 to 5 minutes, or until wilted.

Add diced tomatoes, broth and white or great northern beans.

Simmer for 20 minutes until carrots are tender. Stir in ground sea salt and ground black pepper.

To serve, pour into bowls and sprinkle freshly grated Parmesan generously to top of each bowl of soup.

Be certain to add this flavorful soup to your healthy recipes for healthy living.

This incredible healthy Minestrone Kale Soup serves 10.