Kids must contain healthy ingredients for healthy living, yet be tasty enough for the children to want to eat the oaties. These cookies are wonderful – they were one of my favorites when my kids were growing up.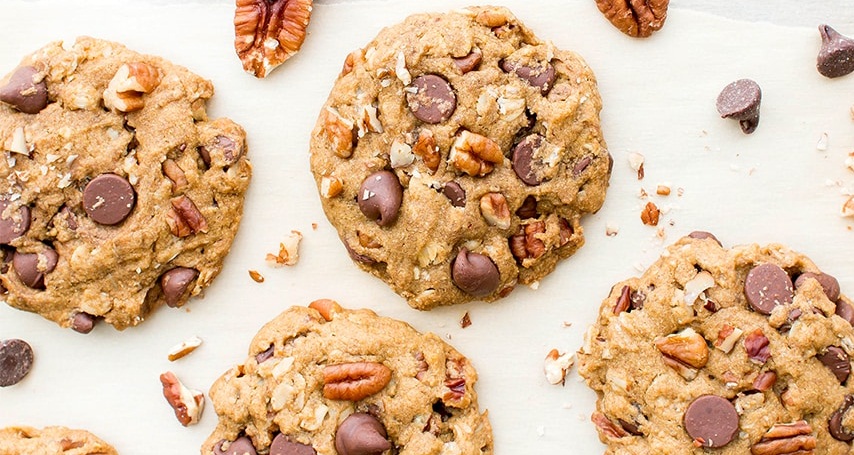 Chocolate pecan oaties
SBcanning must offer some good healthy cookies for the little ones and when the kids come home from school.
Ingredients
1

cup

Nutri-Flour

1/2

tsp

each baking soda and salt

1/4

tsp

ground cinnamon

1

tsp

finely grated orange peel (orange peel is the ultimate in these cookies)

3/4

cup

unsalted butter (room temperature)

1/2

cup

brown sugar

1/4

cup

milk

1

egg

beaten

2

cups

quick cooking oatmeal

1/2

cup

semi-sweet chocolate chips

1/2

cup

unsweetened shredded coconut and coarsely cut pecans
Instructions
Pre-heat oven to 325F . Spray cookie sheet with non stick healthy cooking spray.

In a bowl, stir in flour, baking soda, pinch of salt and orange peel. Stir gently with a fork.

Using spoon, stir in Nutri-mix Robin Hood flour into large bowl above. Add chocolate chips, coconut and nuts. Mix until just combined.

Roll dough into 1 1/2 inch balls.

Place on baking sheets 4 inches apart, flattening into rounds.

Bake in centre of 325F oven until edges are golden, but centers are soft, 12 – 15 minutes. Watch carefully.

Cook on rack when cooked. Store at room temp in air tight container.

Cookies will make 26 per batch – can be frozen in container with tight fitting lid. This is such a favorite to make ahead for when the grans come over for a visit.

Use for energy snacks, or lunches or for coffee snack.

Each cookies contains approximately 164 calories only 2 gms. fat.