We At SBcanning think this is a great recipe for using after a night of leftover roast beef and gravy.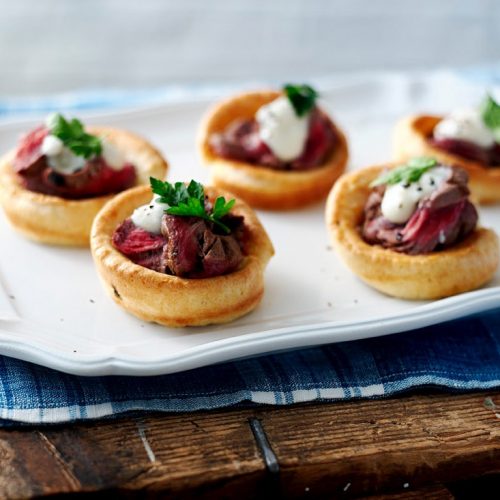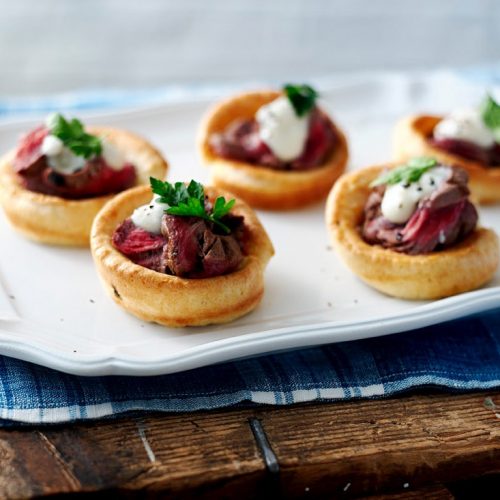 Yorkshire Mini's With Beef & Horseradish Dressing
The Yorkies are small, which means a couple will do you to keep calories down.
Ingredients
First we must make the Yorkies:
1

cup

milk

1

tsp

dry thyme

1

Pinch

of salt and pepper to taste

2

cups

gravy reheated slowly

1-inch

cubed

pieces or roast beef
Horseradish Mayo:
1

cup

light mayonnaise

1

tsp

horseradish

1

tsp

lemon juice

1

tsp

chopped parsley

1/2

tsp

salt and pepper to taste.
Instructions
Whisk eggs in medium sized bowl. Add flour untill smooth. Whisk in milk, thyme, salt and pepper; then strain mixture

Heat oven to 450 F degrees. Add a drop of olive oil for each tin cup and heat 3 minutes longer.

Fill each muffin tin halfway for each and bake for 15 minutes, until golden. Immediately pop in 1 cube of gravied beef cube. Now for the clincher!

To serve 35 people, dab the zippy healthy dressing on top of the Yorkies & Beef! What a zip – excellent taste – appetizers to die for! This is what we call elegant and easy to make. Enjoy more recipes coming up!