SBcanning always recommends you be 'sugar sassy' and use low carbohydrate recipes, and if possible, gluten free, as this recipe of Almond Pancakes is. In this recipe, use Splenda as a sugar replacement. Almond meal flour is found at most health store outlets, or at a bulk food stores. We recommend that you watch carefully when using almond flour meal, as the thickness changes from batch to batch; it is wise to adjust the liquids accordingly to get your pancakes just perfect! Almonds make a healthy snack (10-15 almonds); they are rich in the good mono or unsaturated oils, which means they are unlikely to promote thickening of the artery walls. Note that almonds also are fibrous. Nuts and seeds are the rich in Vitamin E, which is essential in building red blood cells and muscle tissue; nuts are very rich in antioxidants. Almonds and walnuts are best nuts for your health.Almonds are my favorite nuts; just the aroma is so stimulating to me. Almonds are used in salads, baking as a flour meal, almond paste, as Holiday and Wedding cakes, teas, and used as a garnish as well as eaten in the raw.You will notice when shopping, you can purchase almonds sliced, cube sliced, skinned, or whole. You can also purchase almond oil, almond teas, almond paste, and almond flour meal.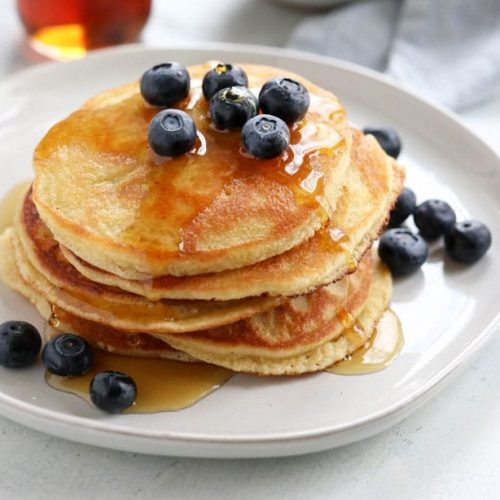 Sugar sassy almond pancakes
Today, we will use almond flour meal.
Ingredients
1

cup

almond meal flour

2

eggs

(range free organic)

1/4

cup

water

2

tbsp

extra light virgin olive oil 1/4 tsp sea salt1 tbsp Splenda (sugar replacement)
Instructions
Mix all of the above ingredients, until smooth.

If you want your pancakes to be fluffy, you can add sparkling water in place of the regular water.

Use a griddle, or a non-stick, lightly oiled skillet on medium-high heat. Pour batter to make approximately 6-inch pancakes. Of course, you can have fun here and make letters for your family's names!

Flip the pancakes when bubbles appear on top and they are golden brown underneath.

Serve with your favorite fruits; strawberries, raspberries, mangos or blueberries on top.

SBcanning gives Almond Pancakes a thumbs' up!