Honey Apple Pie Dessert Recipe is one of the most welcomed desserts in the England Cuisine. You might try different type of Pie dessert before but Honey Apple Pie Dessert is so special and extra delectable. You may try our Honey Apple Pie Dessert Recipes and give your family and friends a special impression in these dessert recipes. Besides, you can discover more information about Honey Apple Pie, such as History of Honey Apple Pie.
Are you looking for Honey Apple Pie Dessert Recipes? Ingredients used? Steps to make it? That's good! You may gain our best Honey Apple Pie Recipe via SBCanning. Enjoy your stay!
Honey Apple Pie Dessert Recipe
During Food Society in University days, I learnt how to make the Apple Pie from my senior, James. And then, I added honey in my recipe to enhance the flavour of Apple Pie. I love apple because it contains a large amount of minerals and vitamins. Honey Apple Pie is a light and airy pie and has a fluffy texture, which contains apples and honey filling and topped with whipped cream or ice-cream. There's nothing better than taking a great big juicy bite of a perfect apple and feeling the juice dribble down your chin, unless it's the same apple in pie. The ratio of apples, sugar and butter will affect the baked apple filling. 
History of Honey Apple Pie Dessert Recipe
The history of Honey Apple Pie dessert recipes was originated from England. The Honey Apple Pie Dessert Recipes can be making with various ways, as recipes vary from region to region, and family to family.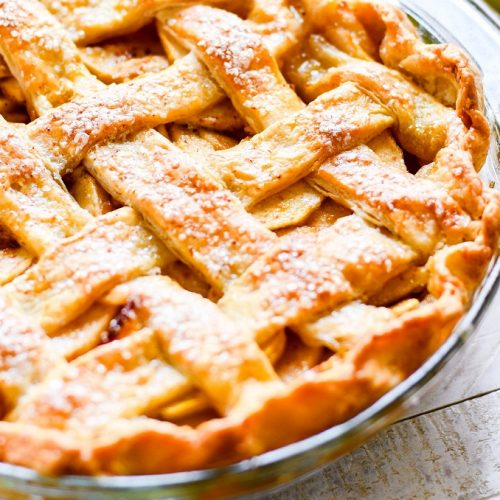 Honey Apple Pie Dessert
Honey Apple Pie is one of popular dessert during tea time and serve with tea or coffee.
Ingredients
For the Pastry:
80

grams

all-purpose flour

1

Pinch

of salt

50

grams

unsalted butter, softened

100

ml

vegetable oil

50

ml

water, chilled
For the Filling:
5

fresh

apples

100

grams

white sugar

30

ml

honey

1

teaspoon

cinnamon

2

tablespoons

cornstarch

1/4

teaspoon

salt

2

tablespoons

butter, cut into small pieces
Instructions
Preheat the oven to 350°F. Grease and butter a 9-inch round baking pan.

For the pastry, combine the flour with salt in a large bowl.

Add in the butter and vegetable oil.

Pour in the chilled water and whisk it until well blended.

Mix it to form soft dough. And then wrap the dough with a plastic wrap and chill for at least 30 minutes.

For the filling, bring a large pot of water to a boil. Drop in the apples for 15 to 20 seconds, then drain and run the apples under cold water. Using a paring knife, remove the skins. Halve the apples, remove the pits, and slice them up.

In a large bowl, mix together the apple slices, sugar, cinnamon, cornstarch, honey, and salt.

Pour into the pie crust. And then, dot with butter and top with the crust; seal and crimp.

Place into the preheated oven and bake it for 40 to 45 minutes or until the crust is golden brown and the filling is bubbling.

Remove the pie out from the oven and let it cool to room temperature on a cooling rack.

Slice to serve. Enjoy it!
Notes
Tips on Preparation of Honey Apple Pie Dessert
The tips of Honey Apple Pie Dessert Recipes are useful for your preparation. It is additional information for you to enhance the taste and flavor of your Honey Apple Pie.
The electrical mixer can be used in this process as more efficiently.

While baking, you should set the correct degrees and timing (burnt if the degree too high)

You can use knife to try the pie until knife comes out clean.