This salsa recipe made with whole wheat pita bread is one of my very favorites, as it only takes minutes to prepare and serve 12 people.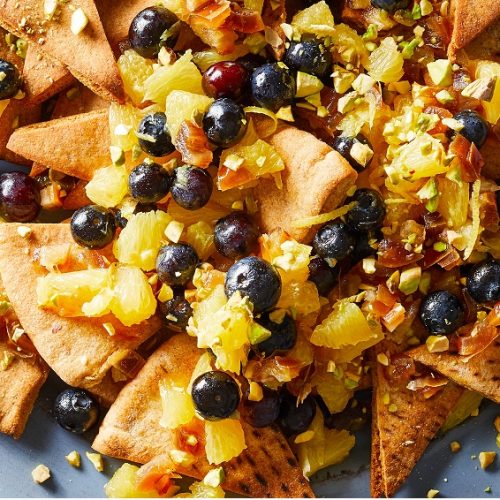 Salsa with pita chips
At SBcanning, we try to find simple, nutritious recipes for busy people!
Ingredients
4

medium

tomatoes (use Roma if you can) peeled and seeded

The secret to peeling tomatoes is the blanch them in hot water and then cold for about a minute in each, and the peel comes off so easily. Chop tomatoes into small cubes.

2

tbsp

chopped Spanish onion

1/2

cup

fresh sliced cilantro

1

tsp

white vinegar

1

tsp

lemon juice

1/4

tsp

sea salt

1

freshly

ground black pepper

1

package

(12 ounces) whole wheat pita bread
Instructions
In a large bowl, add together chopped tomatoes, onions, and cilantro. Mix lightly, all liquid ingredients, into the large bowl with chopped ingredients.

Chill in refrigerator while preparing the pita bread.

Cut each pizza bread round with a pizza cutter, first in half; then cut each half into triangles.

Arrange pita bread triangles on baking sheet and bake approximately 8 to 10 minutes or until light golden brown. Remove from oven.

Place salsa into a fancy dip bowl, and arrange the triangles around the dip in a pleasant arrangement.

How easy can this be? Serve this dandy appetizer with a nice cold brew as above, in Mikasa beer glasses - now that's class!