I almost always use whole wheat bread – I must admit, it looks classier to use white French Toast Bread, but, nutrition comes firsts for me and all of us at SBcanning! So, let me show you how it make it.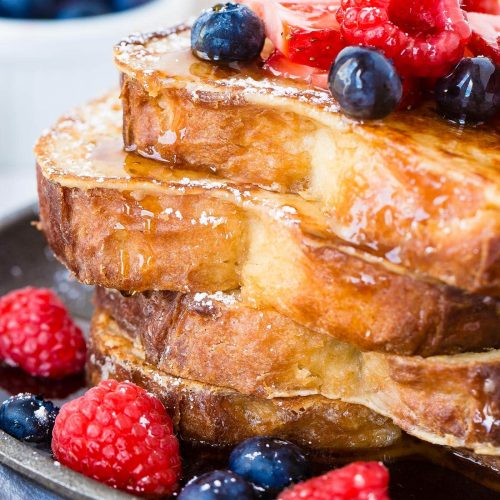 Favorite french toast
Feature serving this healthy recipe at breakfast or brunch.
Ingredients
1/2

cup

sliced almonds

1/2 to 3/4

cup

1% milk

1

tbsp

honey

1

tbsp

(real) vanilla

4

fresh

organic eggs

1

dash

of icing sugar (use very little)

8

slices

French Toast Bread or Whole Wheat Bread
Instructions
Blend all ingredients (with the exception of the icing sugar), in your blender, until just mixed.

Pour above mixture into a medium large bowl in order to dip bread easily.

I use my handy griddle for making my French Toast at about 325F degrees.

Dip bread into large bowl making certain both sides are covered. Place on griddle in groups of 4 - 6. Turn French Toast over to other side when bottom is golden brown.

When toast is completed, dust it gently with a tiny bit of icing sugar, just to give it a fancy look!

This is a favorite breakfast recipe, and a brunch favorite as well. French toast may be served with breakfast sausages, as long as they are lean and all the fat has been sqeezed out of the sausages after cooking.

Enjoy yourself - this is even a favorite for dinner in a pinch!