Basil lives in the walls of Healthy Recipes. It is difficult to imagine summer without the vibrant, spicy scent and complex flavor of this classic herb. Basil has so many uses. It has a flavor of a spicy blend of clove, anise and cinnamon, with an undertone of citrus and camphor which best describes this amazingly healthy herb.
Basil should have oval shaped leaves, tender to light to dark green in color. Basil leaves blacken easily, so add to your favorite recipe at the last minute.
Basil marries well with chives, cilantro, marjoram, mint, oregano, parsley and garlic, so makes a great companion for Italian dishes, such as lasagna, pesto sauce, spaghetti and meatballs etcetera.
Basil does not overpower easily, so it can be used generously. Add whole basil leaves to sandwiches, grilled tomatoes, and it even goes well with fruits such as sliced peaches, apricots and fresh berries.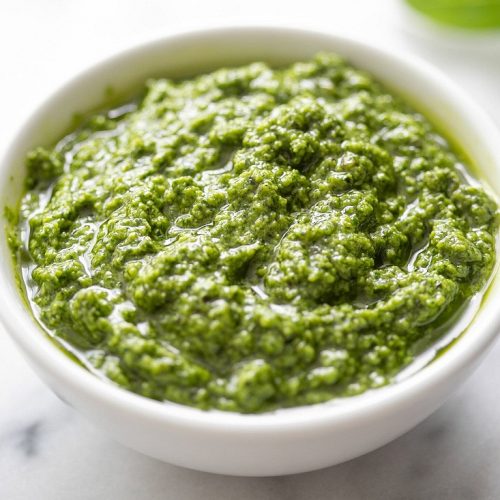 Basil pesto sauce
My favorite use of basil is in pesto sauce.
Ingredients
2

cups

firmly packed fresh basil leaves

3/4

cup

fresh parmesan cheese

3/4

cup

extra-virgin olive oil

3

cloves

of garlic minced

1/4

pine

nuts (optional)
Instructions
Add all above ingredients into food processor or blender.

Cover and blend on medium speed for approximately three minutes, pausing for a moment to scrape the sides. Blend until pesto mixture is very smooth.

Now this healthy recipe is ready to serve, on a bed of whole wheat tossed hot pasta. If this isn't pure joy, what is?

Recipe of pesto sauce yields approximately 1 1/3 cups and serves 4 people. Enjoy!
Notes
PS: To make Cilantro Pesto - substitute 1 1/2 cups fresh cilantro leaves and 1/2 cup fresh parsley for the basil.
To make Spinach Winter Pesto, substitute with 2 cups firmly packed fresh spinach and 1/2 cup firmly packed fresh or 1/2 cup dried basil leaves for the fresh basil.
To make Sun-Dried Tomato Pesto, use food processor and omit the basil. Take down the oil to 1/3 cup and add 1/2 cup oil packed sun-dried tomatoes (undrained).
These are all healthy herbal sauces and SBcanning recommends them all to serve over whole wheat noodles and pasta.