Oatmeal and Wheat Germ you say? Yes! This is an incredibly tasty Healthy Recipe my Auntie passed on to me years ago, and I still make today. I have made a few slight changes to accomodate the healthiness of the recipe.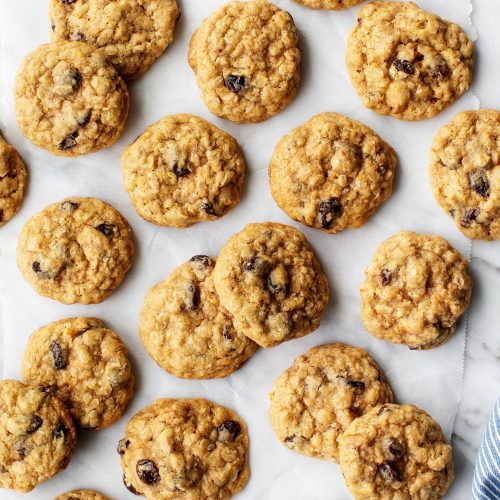 Oatmeal cookies
Ingredients
3/4

cup

light virgin olive oil

1 1/4

cups

dark molasses

2

tsp

pure organic vanilla (always use pure vanilla for better taste)

1/2

cup

Sun Maid dark raisins

1/2

cup

sliced almonds

1 1/2

cup

wheat germ

2

cups

rolled oats

3/4

cup

whole wheat flour (can substitute soya flour)

1

tsp

sea salt

1/2

cup

powdered milk
Instructions
In a large bowl, add all but the last three ingredients together.

Sift in 3/4 cup whole wheat flour.

Add pinch sea salt and 1/2 cup powdered milk.

Stir all ingredients together until mixture is smooth.

Cover baking sheet with aluminum foil.

Push mixture from a tablespoon onto the baking sheet.

Bake at 350F for 10 - 12 minutes. Cookies will spread out on baking.

Remove from oven and let cool before using fry pan flipper to take off of aluminum foil.

When using this Healthy Recipe, you may add more nuts or raisins if you prefer.

These cookies freeze beautifully.

Recipe yields approximately 3 dozen. Enjoy!

This is one healthy cookie recipe that the whole family can enjoy.