Whole wheat is the best flour to use for health's sake, so this recipe just fits the bill.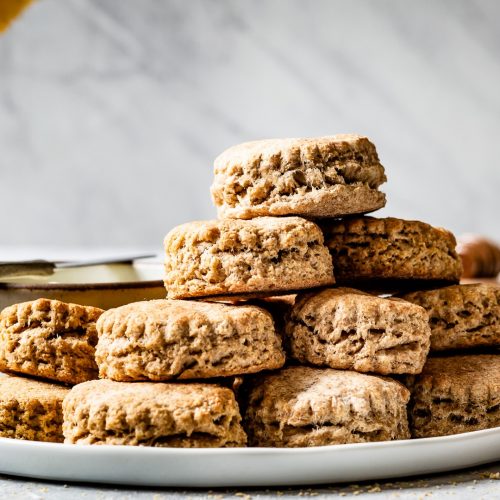 Whole Wheat Biscuits
Ingredients
1/2

cup

raisins

1/2

cup

orange juice

1 1/2

cups

Whole Wheat Flour

2

tsp

baking powder

1/2

tsp

cream of tartar

1

pinch

sea salt

2

tbsp

sugar (or replacement Splenda)

1/4

cup

virgin olive oil
Instructions
Soak raisins in orange juice for about 5 minutes.

Mix whole wheat flour, baking powder, cream of tartar, pinch of sea salt, and 2 tbsp. of sugar or Splenda.

Add egg (premixed), juice and raisins.

Blend mixture until moist. Turn out on floured board.

I use my biscuit cutters (large one) and make tea biscuits. For biscuits, spread dough on floured area and roll gently into a circle. Cut biscuits (makes approximately eight biscuits. Place on cookie sheet and cook for approximately 10 - 15 minutes at 350 F.

Remove biscuits, place in basket that has a clean tea towel in in, cover and serve warm.

OR: for something different, roll out dough gently into a circle on a floured surface. Place in round cake pan and score the top gently into 6 pieces.

Bake in medium hot oven at 350 F for 12 - 20 minutes.

Take cake out and turn out onto plate - let cool for 10 minutes scoring before eating. The healthy whole wheat bread is ready to serve. This is another big favorite of mine as it is easy to make, takes only 12 - 20 minutes in the oven, and tastes great! Enjoy this healthy recipe!

Serves 6 as round cake or 6 - 8 muffins; love this recipe!