The wonders of a Slow Cooker – Crock Pot – once the preparation is completed, then the soup sits on simmer for the remainder of the day. Heaven is…..for those working outside the home.
Beef is a number 1 source of protein, but high in cholesterol (fat) so be certain to choose lean cuts. Beef contains a wide variety of nutrients, especially Vitamin B12, iron and zinc; also a source of B6, niacin and riboflavin as well as other nutrients.
Barley is a common grain product and one of the staple foods in the Middle East. Mostly known to Canadians and Americans alike, it is used as a soup ingredient.
Now, let's get to the soup creation: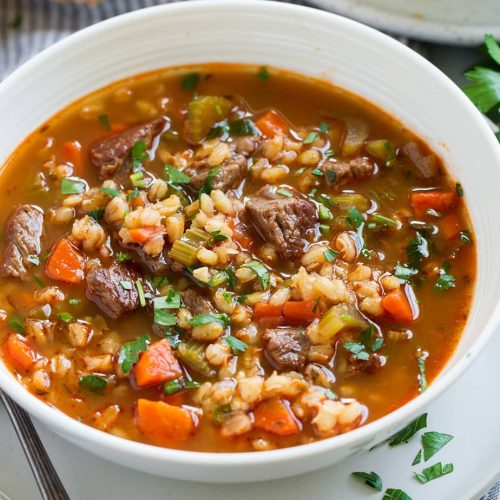 Beef & Barley winter soup
Barley itself has a somewhat sweet taste which makes it an interesting addition to soups and casseroles.
Ingredients
2

tbsp

olive oil

1

lb

beef lean beef stewing cubes

2

tbsp

all-purpose or Nutri-Blend (Roger's Flour)

2

Spanish

onions chopped

3

elephant

cloves of garlic minced

3

cups

sliced fresh mushrooms

2

carrots

chopped

2

celery

stalks chopped

½

tsp

dried sage

1

tsp

dried thyme

1

bay

leaf

5

cups

low sodium beef broth

½

cup

red wine

1

19

fl oz tin tomatoes

2

cups

water

½

tsp

freshly ground pepper

¼

tsp

sea salt

½

cup

pearl barley
Instructions
Using your favorite Dutch Oven, heat oil over medium-high heat. After coating the beef with flour, add to Dutch Oven in batches, in order that each piece may become browned all over. Transfer to a plate in order to drain any fat from the meat.

Increase heat to high on Dutch Oven to cook carrots, onions, garlic, mushrooms, celery, sage and thyme….and for Heaven's sake, remember the Bay Leaf! Stir mixture adding in sea salt and freshly ground pepper. Stir mixture and remember to scrape off the brown parts from the bottom of the pot.

Then add beef, tomatoes; bring to a boil and reduce heat to simmer for about 1 ½ hrs or until beef is tender. Then add the pearl barley, covering Dutch Oven; simmer for about 30 minutes, or until barley is tender. Let cool for 10 minutes; then can refrigerate for up to 2 days, and you can reheat and serve.

Makes 6 – 8 servings. – served as a full meal with crusty rolls or baking powder biscuits.