Surround this mildly spicy dish with a selection of topping; mango chutney, toasted slivered almonds, fresh cilantro leaves, even yogurt with chopped cucumber and mint, for example.
This incredible meal is most satisfying as the curry tantalizes the taste buds.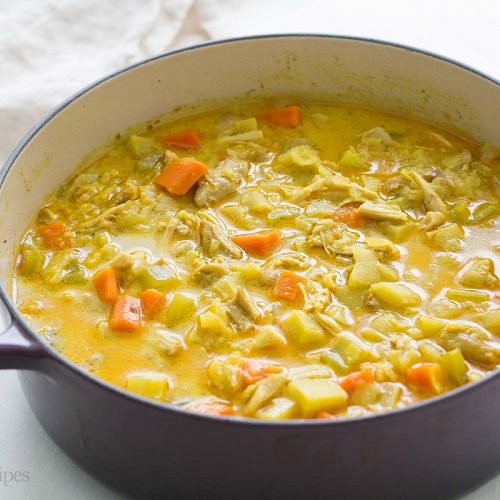 Chicken and apple curry thick soup
SBcanning gives this recipe a thumbs up! Never have I found a recipe so complete, healthy-wise, nor flavor-wise.
Ingredients
2

large

chicken breasts skinned and floured in a plastic bag with freshly ground sea salt and pepper

2

tbsp

extra-virgin olive oil

3

cloves

minced garlic

1

8-ounce

tin water chestnuts

1

tbsp

chopped ginger root

2

tbsp

curry powder

2

Spanish

onions chopped

2

tsp

cinnamon

1/4

tsp

1 10-ounce can stewed tomatoes

1

14-ounce

can coconut milk

3

apples

cored and chopped

3

potatoes

chopped

1

tbsp

brown sugar

1/4

tsp

ground cumin

1/4

cup

fresh coriander or parsley leaves

1/4

cup

raisins
Instructions
In large skillet, on medium high, with olive oil in it, lay chicken flour coated chicken breasts and cook until golden brown on outside (5 minutes on each side). Set aside.

In crock pot, already on medium high heat, add oil, onions, curry powder, cinnamon and cumin.

Cook until onions are transparent. Add tomatoes and coconut milk, stirring to get the spices on the sides of the crock pot. Bring to a boil.

After cutting chicken in 1″ cubes, put in crock pot with other ingredients. Add water chestnuts, apples, ginger root , brown sugar, chopped fresh coriander or parsley.

Simmer for several hours for the flavors to thoroughly pierce the chicken. The beautiful aroma will carry throughout your home.

Serve with pita bread heated and arranged nicely on a plate.
Notes
This is one of my all time favorite recipes for Healthy Recipes.
Please note: If you are allergic to coconut, you can replace the coconut milk with Sharwood's Butter Chicken Sauce or Balti Sauce.