Each apple is filled with nutritious dried fruits and wine and apple juice to create the dessert of a lifetime.
Growing up on an apple orchard, this recipe was a constant in our healthy eating; therefore, it was a must to offer this Healthy Recipe to your collection.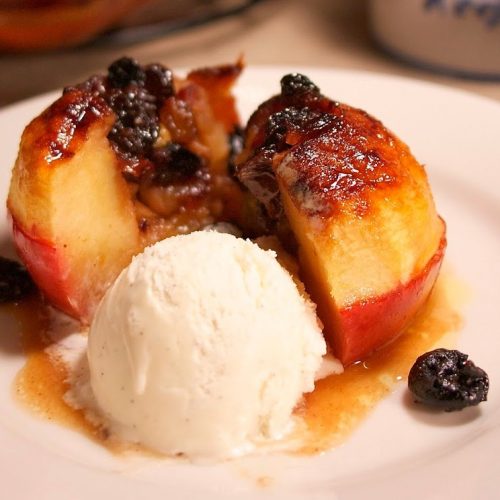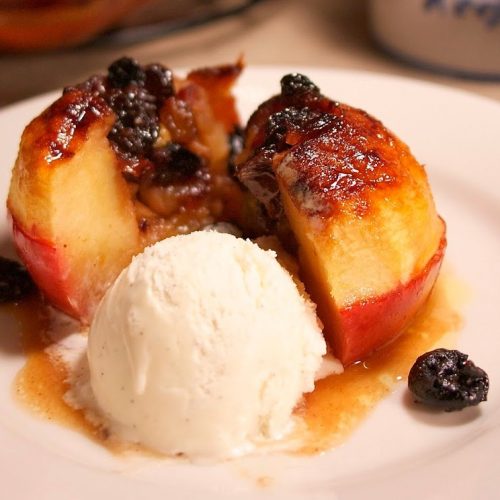 Baked apples a' la fruit
The aroma of cinnamon will fill the air as these yummy apples bake.
Ingredients
1/4

cup

port

1/4

cup

apple juice concentrate

1/4

cup

dried blueberries, cranberries, or sour cherries

2

tsp

ground cinnamon

4

baking

apples

i.e. Jonathan, Mackintosh or Gala
Instructions
Bring wine and juice concentrate to a boil in a small saucepan.

Add cranberries and cinnamon; stir and cover - let sit for 15 minutes.

Core apples, being careful not to cut through the bottom. Using a paring knife score around the apple approximately 1/2 inch from bottom. Peel from top down to scored line to stop from splitting while cooking.

Set apples in glass baking dish so they do not touch each other.

Fill center of juice soaked cranberries using remainder of juice to spread over apples.

Pour enough water to 1/3 inch in baking dish. Cover dish with foil.

Bake for approximately 20 minutes. Remove foil and bake a further 20 minutes.

Voila - baked apple dessert is completed - serve warm in fancy dessert dish.