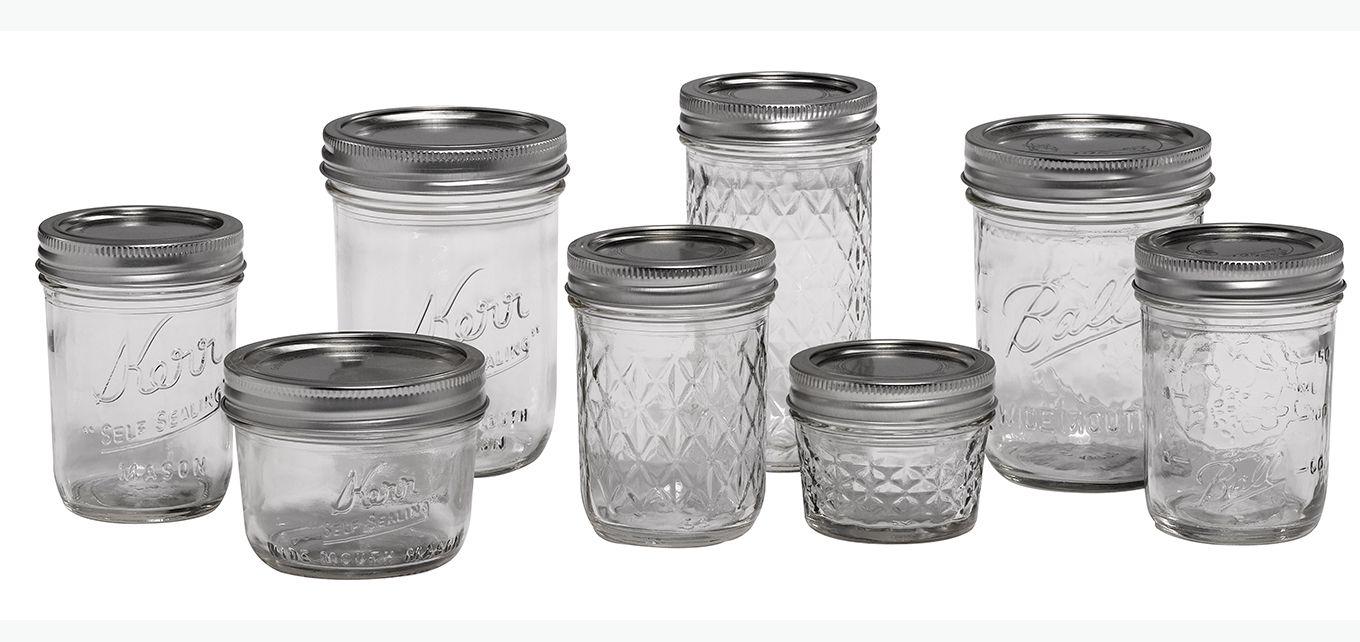 Your canning jars are the most essential element to home canning, obviously necessary for preserving your fruits, vegetables and meats via waterbath or pressure canning methods.
While you can often find good canning jars year round at places like BigLots and second hand from yard sales and flea markets, they are often available in big box/ department stores seasonally, usually April through September. So stock up when you see them, as the jars may be gone when you go back to get some for the fall apple crop.
Over the years, I have used the following brand of jars:
Ball canning jars: The most trusted name in canning for many homemakers, Ball provides a great variety of jelly jars, pint jars, quart jars and half-gallon glass jars. There are wide mouth and regular versions, special band and lid designs and labels to dress up your canned goods.
Kerr canning jars are likewise versatile and plentiful on seasonal store shelves.
Note:  Jarden Home Brands manufacturers both Ball Mason and Kerr canning jars. So while the name differs, the source does not. The name brand jars are used by the vast majority of home canners but are not intended for commercial use.
Golden Harvest is a lesser-known brand that supplies jars more cheaply than the two name brands mentioned above. They are about $6.50/ dozen at Big Lots and hold up very well. Some canners prefer these because they have a flat side, without raised designs, good for labeling with decorative or informative labels.
Tip: Always check your canning jars, before use, for any chips or cracks in the jar, especially on the rim. Chips in the rim will prevent a good seal and cracked jars must also be discarded.
Canning jars NOT to use:
Never re-use commercial jars, such as the ones holding store-bought jam or spaghetti sauce, for preserving food at home. Never use damaged jars; as noted above, jars with cracks or chips should discarded or given a second life as storage containers for non food items, such as coins or school supplies.
Wholesale canning jars are available online at some savings over store prices. However, with the cost of shipping added, you'll need to buy a large quantity to see any real savings.
Be sure to thoroughly wash and sterilize jars, lids and bands before using them to preserve food. Proper handling is essential for food safety.