During the start of this canningseason I have had the pleasure of seeing some new faces on my FB page. They aresharing their work and telling me that its been a long time since they havecanned anything but now are jumping in with both feet. Many have hadexperiences with their grandparents that left lasting memories and back in thekitchen with that mental picture has given them some new found calm and peace.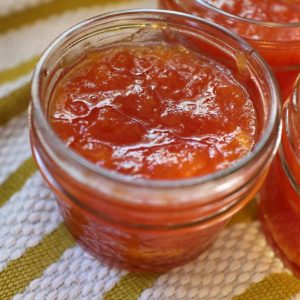 Nectarine Upside Down Cake Conserve
It looks delicious and really like theidea of the extracts adding some interesting flavors to the final product.
Ingredients
6

cups

nectarines

4

T.

lemon juice

4

T.

orange juice

3

cup

sugar

1 1/2

cup

brown sugar

1

T.

vanilla extract

1/2

T.

butter flavored extract

1

cup

chopped pecans

6

T.

Ball Classic Pectin
Instructions
Preparation:
Prepare 8 half pint jars in hot water. Preparenectarines by pitting, then quartered and slice. Add 4 lemon juice and orangejuice, and let the mixture sit for a couple of hours.
Cooking:
In a stainless steel pot add nectarines and 1 cup sugarand heat over medium for a strong simmer. Cover and let simmer for 5 minutes.Combine ½ cup sugar with 6 T. Ball Pectin and stir into fruit.

Bring it back toa simmer and then stir in the remainder of white and brown sugar. Bring themixture to a hard simmer and cook until the recipe sheets off a metal spoon.Add the vanilla and butter extract.

Remove from heat and gently stir inthe nuts and fill jars.
Processing:
Ladle jam into hot, sterilized half pint canning jars,leaving 1/4" headspace. Remove air bubbles and refill if necessary.

Wipe rims, and add hot lids and rings. Place the jars in the water bathmaking sure that the water covers each of the jars by 1 to 2 inches. Add hotwater to the canner if it doesn't measure up.

Cover the pot and turn up theheat under the canner and wait for the water to start boiling. Once the waterhas come to a boil start your timer for 10 minutes.

When complete turn off theheat and remove the cover and let the jars sit for another few minutes.

Remove the jars and place them back on the dishtowel in a place that they will sitovernight to cool. Do not touch or move them till the next morning. 
Sealing:
Sometime in the next hour your jars will be making a"pinging" or "popping" noise. That is the glass cooling andthe reaction of the lids being sucked into the jar for proper sealing. Somerecipes may take overnight to seal. Check your lids and reprocess any jars thatdid not seal.