I received an email from my sister in Las Vegas that her trees are going crazy and it's time to get to our yearly canning extravaganza. Here is the picture of her fridge from Wednesday!
She decided to start without me and did 34 jars this weekend to get some of the baskets taken care of in the fridge. I told her that I had a request from one of my followers for a peach raspberry jam and with 60 plus pounds of peaches a season that was an easy request for today.
Here is my sisters gorgeous Peach Raspberry jam and the low sugar recipe she did since the peaches from her tree are really sweet. Thanks again Cheryl for making canning a family affair once a year! Love you!
I know that you have several choices so I wanted to start including all the options. Enjoy!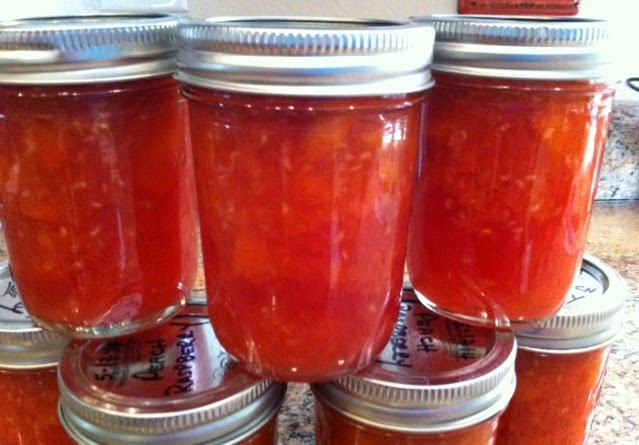 Peach Raspberry Jam
The recipe below shows the amounts of pectin to use if you use Ball Low sugar/No sugar, Pomona Pectin or Sure Jell Pink box pectin.
Ingredients
5

cups

diced peaches

1

cup

raspberries

2

cup

sugar

1/4

cup

bottle lemon juice
Pectin:
1

1.75 ounce

package Sure Jel No sugar/Low sugar pectin (pink box) OR

3

T.

Ball Flex batch No sugar/Low sugar pectin OR

4

t.

Pomona Pectin and 4 t. Calcium water(included in pectin box)
Instructions
Preparations:
Prepare canner, 6 half pint jars, and lids. Peel and dice the peaches. 
Cooking:
In a stainless steel saucepan, combine peaches and raspberries cooking them on medium heat till the fruit starts to breakdown

Add 2 cup sugar and stir till sugar is dissolved. Add the lemon juice (and calcium water if using Pomona pectin).

Stir the jam and increase the heat bringing the batch to a boil, stirring constantly. Add the pectin, stirring constantly.

Once it comes back up to a boil time for one minute then remove from heat and skim off foam with a metal spoon.
Filling jars: 
Ladle hot jam into hot jars, leaving 1/4-inch headspace. Remove air bubbles and adjust head space if necessary by adding hot jam.

Wipe rim. Center lid on jar. Screw band down until resistance is met (finger tip tight).
Processing:
Place jars in canner, ensuring they are covered by at least an inch of water. Bring to a boil and process for 10 minutes. Remove lid from the pot.

Let the jars sit in the pot for 5 minutes, then remove jars and leave on the counter overnight or for at least 12 hours until the jars have sealed.