Fuyu persimmons are a similar texture and firmness as some sweet apples. I really love this time of the year since these type of persimmons are only available for a few months. I got an idea from Erin on Facebook about using them like apples to make a pie filling. They are naturally sweet like apples and soften when cooked. I used the quantities from the apple pie filling and added cranberries to the recipe since my Cranberry Persimmon Sauce was really an amazing pairing of two very seasonal fruits.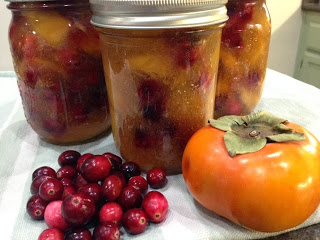 Persimmon Cranberry Pie Filling
Persimmon Cranberry Pie Filling
Ingredients
3 1/2

lbs

Fuyu Persimmons (6 cups peeled and cut)

2

cups

fresh or frozen (thoroughly thawed) cranberries

1/2

cup

Clear Jel

1 1/2

cups

sugar

1 1/2

cup

apple, white grape, or pear juice  

4

T.

bottled lemon juice
Instructions
Preparation
Peel and cut persimmons into slices as if you are making a pie filling. 
Cooking
In a stockpot, mix the sugar, Clearjel, 1/2 t. cinnamon, 1/4 t. nutmeg together. Add the apple juice, stir to mix well.

Bring to a boil and cook until thick and bubbly, stirring frequently. Remove from heat. Add the  lemon juice. Fold persimmon/cranberries into mixture.
Filling jars
Pack the persimmon/cranberries into hot, sterilized pint or quart size canning jars. Best way to fill is in layers.

Using the funnel ladle one large scoop and using the spatula press the fruit down in the jar to remove the bubbles.

Continue filling using this technique so that you work your way up the jar with as little air bubbles as possible. Fill the jars to 1 1/2" headspace. Make sure to measure accurately.
Processing
Wipe the rims and place the hot lid/rings on the jars. Process in a water bath canner for 25 minutes at a full rolling boil. Wait 5 minutes, remove and place on dishtowel overnight undisturbed.

The next day remove rings and clean jars and label with recipe name and date. Store in a cool, dry, and dark place.