Suzanne this post is just for you!
Making these type of beans was very easy. I found that when you make the sauce the flavor is not perfect until it's mixed with the beans and processed.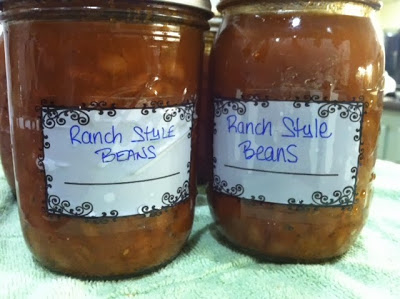 Ranch Style Beans
This recipe made 5 pints and can be doubled if you want to plan for the summer season. 
Ingredients
16

oz.

dried pinto beans

4

Tablespoons

chili powder

6

cloves

garlic, minced

1

onion

diced

1

15 oz. can

tomatoes (or 2 medium-sized tomatoes, peeled and diced)

1

teaspoon

brown sugar

1

teaspoon

apple cider vinegar

1

teaspoon

paprika

1

teaspoon

cumin

1/2

teaspoon

oregano

1

cup

water

3-4

cups

beef broth OR boiling water

1/2

teaspoon

salt and black pepper
Instructions
Methods to prep the beans:
Sort and soakbeans overnight. Cover beans with fresh cold water by two inches in a largedutch oven. (Because the beans have plumped up you may need a biggerpan.)

Bring beans to alow boil for 30 minutes, stirring frequently. (Hard boil tends to split beans.)Drain beans.

You can soak thebeans overnight or put dried beans in a large saucepan. Add water to coverbeans by 2 inches. Bring beans to a boil, boil 2 minutes. Remove fromheat and let stand covered for 1 hour. Drain beans.

In a dutch oven heat up ateaspoon of canola oil and cook the onions for ten minutes on medium. Add thegarlic and cook for another minute. Throw the cooked onions and garlic in ablender and add the tomatoes, brown sugar, apple cider vinegar, paprika, cumin,oregano, water and chili powder. Puree until smooth. Heat beef broth or waterto a boil. Remove from heat.

Add the pinto beans to thechili puree and fill the jars ¾ full. Add beef broth or water to jars and fillto 1" headspace. Remove air bubbles and refill to 1" headspace if necessary. 

Clean rims, addlids and rings. Process pints in pressure canner at 10lbs of pressure for aweighted gauge canner and 11lbs for a dial gauge for 75 minutes, quarts for 85minutes.

Labeling: Make sure tolabel your jars after they have cooled with the name of the recipe and the datecanned. If you want to use the shrink labels in the picture you can order them Here!