My visit with my mom has been brief and have not had any time to do canning together.  I made sure that mom got a box to take home of stuff in my canning closet; a couple of my marmalade's, bread and butter pickles, and applesauce. I keep forgetting to make ½ pint jars of all of my canning recipes to store for when she visits. Because she is by herself in the house she doesn't go through a pint of anything before it goes bad. I will also work on some ¼ pint jars for those special recipes I know she will love.
I have been working on some ideas for this weekends canning. I will be spending the day going out with my hubby on his one Saturday off this month. We have been wanting to go to a local farm up near Foxen Canyon road called Classic Organic Farm & Market. The owners have been organically farming since 1971. We are so excited its spring and want to soak up as much local gardening information as we can.
I try to post only recipes I have made but this is one exception. I know this will be the first one to make when my first tomatoes come from my garden. Here is the fantastic picture and recipe.  Thank you Chef Cathy!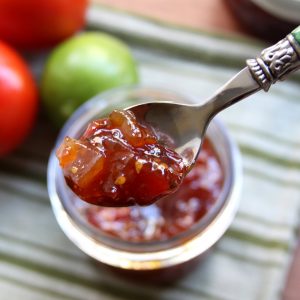 Cowboy Tomato Jam
Now I have to say the recipe I found on "ShowFood Chef" has got me excited about the prospect of spring tomatoes and the amazing jam that she created.
Ingredients
1

lb.

Garden fresh tomatoes (peeled, cored and chopped)

12

oz.

sugar

1

pc.

lime (juice and zest)

1

Tbls.

fresh ginger zested

1

pc.

whole Jalapeno (minced)

1

tsp.

each: cumin, black pepper and cinnamon

1

tsp.

salt
Instructions
Combine all ingredients in a deep saucepan. Cook on low until the sugar dissolves, stirring often.

Bring to a boil on Med., continue to stir, for several minutes.

Increase heat and boil until temp reaches 220F or check for jam set with a chilled plate (a dollop should have a little rise to it, and leave a space when you drag your finger through it).

Fill sterilized jars, leaving 1/2 inch headspace for food expansion. Seal immediately, and hot water bath for 10 minutes. Remove, carefully, and leave for 12-24 hours without moving. Label and store in a cool, dry place.