Here is another great recipe to consider for the upcoming season. As a kid we had this in the cabinet in cans and usually it was really sweet. My mom used to give it to us as a snack with cottage cheese. Now that I am a canning and don't shop in the "canned" fruit isle at the grocery store this is a much better substitution. You can use other fruits in this recipe like apricots or pineapple if you have a more "tropical" idea.
If you read this recipe carefully you will find that they add the measured hot liquid to the jar first then add the fruit and then fill the rest of the way with the hot liquid to the proper headspace. Enjoy!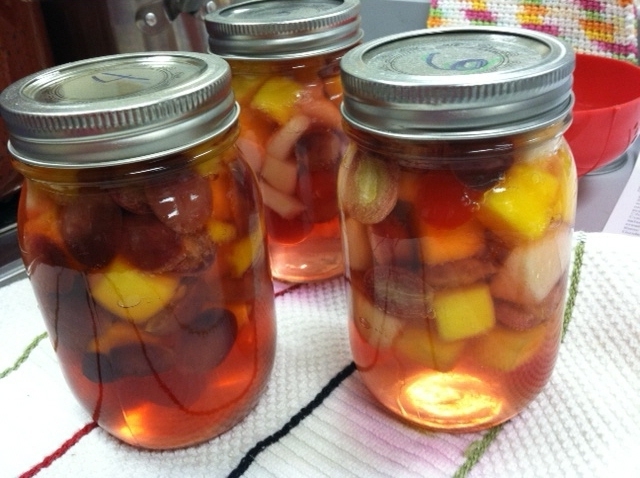 Mixed Fruit Cocktail
Ingredients
3

lbs

peaches

3

lbs

pears

1 1/2

lbs

slightly under ripe seedless green grapes

1

10-oz jar

maraschino cherries

3

cups

sugar

4

cups

water
Instructions
Preparing fruit:
Stem and wash grapes, and keep in ascorbic acid or lemon juice. Dip ripe but firm peaches, a few at a time, in boiling water for 1 to 1-1/2 minutes to loosen skins. Dip in cold water and slip off skins.

Cut in half, remove pits, cut into 1/2-inch cubes and keep in solution with grapes. Peel, halve, and core pears. Cut into 1/2-inch cubes, and keep in solution with grapes and peaches.
Cooking:
Combine sugar and water in a saucepan and bring to boil.
Filling:
Drain mixed fruit. Add 1/2 cup of hot syrup to each hot jar. Then add a few cherries and gently fill the jar with mixed fruit and more hot syrup, leaving 1/2-inch headspace.
Processing:
Remove air bubbles and adjust headspace if needed. Wipe rims of jars with a dampened clean paper towel. Adjust hot lids and process in a water bath for 20 minutes.