Back in the kitchen and ready for some new ideas to put up and the first came quickly with the idea of putting up garlic. I have done a pickled garlic with a vinegar brine that I use for salad dressings and other cold application recipes. It's also great right out of the jar and for a appetizer plate.
When asked about how to can minced or sliced garlic the marinated brine was the first recipe that came to mind. Marinated brine has olive oil, bottled lemon juice, and vinegar. The three together have enough acidity to use to preserve bell peppers, mushrooms and artichokes and perfect for the application of these small jars of garlic.
I decided to do a small sampling to see what the flavor would be in several weeks once the brine mellowed.
With the other "marinated" recipes they leave over time have more of the "olive oil" flavor than the tartness of the lemon juice and vinegar. My guess is this will be the way that I preserve all of my garlic from now on. Here is the recipe for the small batch. Makes 2 –  4 oz jars.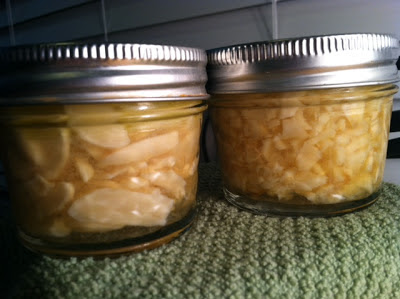 Minced or Sliced Marinated Garlic
This recipe can be made in larger quantities if you have a crop of garlic.  
Ingredients
1/4

cup

olive oil

1/2

cup

white vinegar

1/4

cup

lemon juice 3/4 cup garlic - either minced or sliced 
Instructions
Using a food processor or knife mince or slice your garlic cloves. In a small saucepan add the olive oil, vinegar, and lemon juice.

Heat the brine under medium heat to a simmer and prepare 2-4 oz jars in a small water bath pot heating the jars and lids. (Use a pot with a lid and a steamer rack at the bottom for a quick setup!)  

Remove the jars from the water and fill with garlic to 1/2" headspace. Ladle the brine into the jars and fill to 1/2" headspace with the hot liquid. Using your plastic spatula remove air bubbles and refill to headspace if necessary.

Wipe rim of jars with damp paper towel so that the lids will get a good seal. Add hot lid and tighten jar finger tight.

Add jars back to water bath and process at a full boil for 15 minutes. Remove from heat and let jars sit on the counter over night before storing. For storage remove the rings.