One of the things that I work on as the canning summer season has past is to catch up on all the beans, meat, and potato canning. Because we spend so much time working on tomatoes for two to three months it's nice to take a break and do some jars that are great for quick meals or sides.
Van Camp's Pork and Beans has been around for 140 years, but today we will change all that and put the power of the flavor and the elimination of the preservatives back into our hands. From the Ball Blue Book there is the recipe for Beans with Pork and Tomato sauce that will cross off another thing you don't have to buy at the grocery store anymore!
Sherrie did her jars of Pork and Beans a few weeks ago and I loved the picture so much I thought that I would share the recipe. Since most of us eat with out eyes here is why I wanted to share this recipe! Thanks Sherrie for letting me use your work to showcase one of the staples in most families homes that they can now make homemade!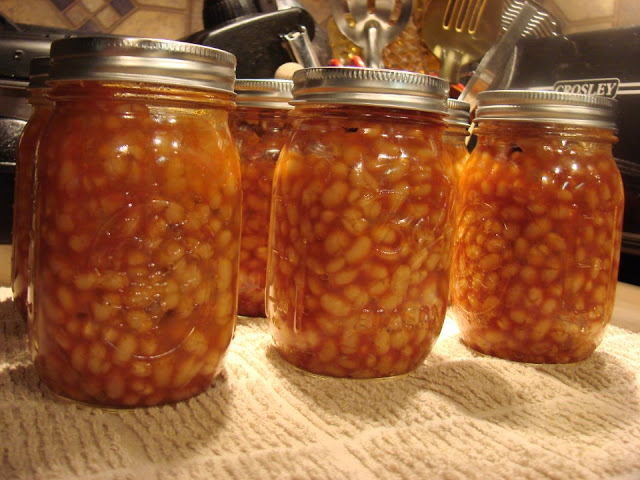 Homemade Pork and Beans
Ingredients
1

quart

dried navy beans (about 2 pounds)

1/4

lb

salt pork, cut into pieces

1

quart

tomato juice

3

tablespoons

sugar

2

teaspoons

salt

1

cup

chopped onion

1/4

teaspoon

ground cloves

1/4

teaspoon

ground allspice
Instructions
Put beans in a large saucepot. Add water to cover by 2 inches. Bring to a boil and boil for 2 minutes. Remove from heat and let the beans sit for one hour.

Drain and cover with boiling water; boil for 3 minutes. Remove from heat and let stand for 10 minutes; drain.

Combine tomato juice, sugar, salt, onion and spices and bring it up to a boil. Pack 1 cup of beans into hot jar and put in a piece of salt pork and then fill jar about 3/4 full with beans.

Ladle hot tomato sauce to within 1 inch from top of jar. Remove air bubbles from the jar and refill to proper headspace if necessary.

Wipe rims and add hot lids/rings to the jars. Process in Pressure canner for 65 minutes for pints and 75 minutes for quarts at 10 lbs of pressure for weighted gauge and 11lbs of pressure for dial gauge. 
Notes
makes 6 pints or 3 quarts