For a quick post Audrey was looking for a Sweet Chili Sauce recipe and I happened on one in The Pickled Pantry Canning book that I just purchase. The flavor is a sweet from the sugar and tomatoes with a sour taste coming from the vinegar and bells. It will be a great addition to your pantry in place of a different condiment for substituting ketchup and hot sauce!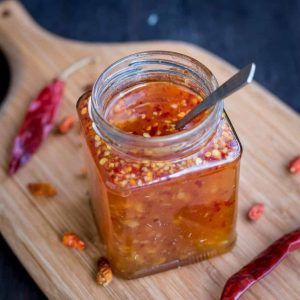 Sweet Chili Sauce
Sweet Chili Sauce
Ingredients
16

cups

small tomatoes, peeled and chopped

1 3/4

cups

white vinegar

2

cups

sugar

1

cup

finely chopped onions

1 1/2

cups

finely chopped celery

3/4

cup

finely chopped bell pepper of any color

2 1/4

t.

pickling or kosher salt

1 1/2

t.

ground cinnamon

1 1/2

t.

ground ginger

1

t.

mustard seed
Instructions
Combine the tomatoes, vinegar, sugar, onions, celery, bell peppers, salt, cinnamon, ginger, and mustard seeds in a large saucepan.

Bring to a boil, stirring to dissolve the sugar. Decrease the heat and simmer for 2 hours, until the sauce cooks down and thickens. Stir frequently to prevent scorching.

Pack the mixture into clean hot 1 pint canning jars, leaving 1/2 inch headspace. Remove any air bubbles, wipe rims and add hot lids/rings.

Process in a boiling water bath canner for 15 minutes.